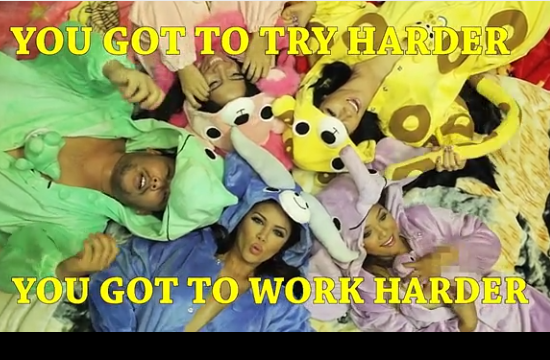 Thank you, Rene Redzepi and the MAD Symposium, for finally giving the world what it wanted: David Choe's speech from last year's symposium on the topic of "guts". And it's everything you ever dreamed of; namely, it's a fifty-minute long video about how to be David Choe.
If you don't have time for the actual talk part of the segment, just watch the first five minutes, where he summarizes exactly how to be David Choe, with the help of some footy pajama-wearing models. MONEY. (Also: BOOBS.)
Okay, here's what he actually talks about:
Without spoiling his message, which you can view in-full above, it's safe to say that Choe sees guts and courage in much the same way his friend David Chang does. "One day, I played out every worst-case scenario in my mind," said Choe. "I realized, 'Who gives a fuck? Who cares?'"

At one point, Choe decided to go all-in on his craft and teach himself how to overcome his fears. In the end, he learned one of the most crucial interpretations of guts — the idea that you have to believe in yourself and your ideas to the point where it doesn't matter what critics say.
Why did a noted food conference decide to invite a questionably psychotic Korean graffiti artist as a speaker? Why did he appear prominently in Anthony Bourdain's Koreatown episode of Parts Unknown? Why do we devote so many megabytes to his life, despite us being a website about chefs? We don't know. No one in the restaurant industry knows. David Choe is just awesome.
RELATED:
Best Morning Tweets: Your Favorite Insane Person David Choe Needs His Own Toilet at MAD3
Tonight In Food TV: Parts Unknown Explores LA With The Help Of Roy Choi And David Choe
WATCH: Artist David Choe Gets Mistaken For Chef David Chang All The Freaking Time
Have a tip we should know? tips@mediaite.com