Mark Meadows Planning to Flip on Trump in Georgia Case Along With Other Indicted Co-Conspirators, Per Report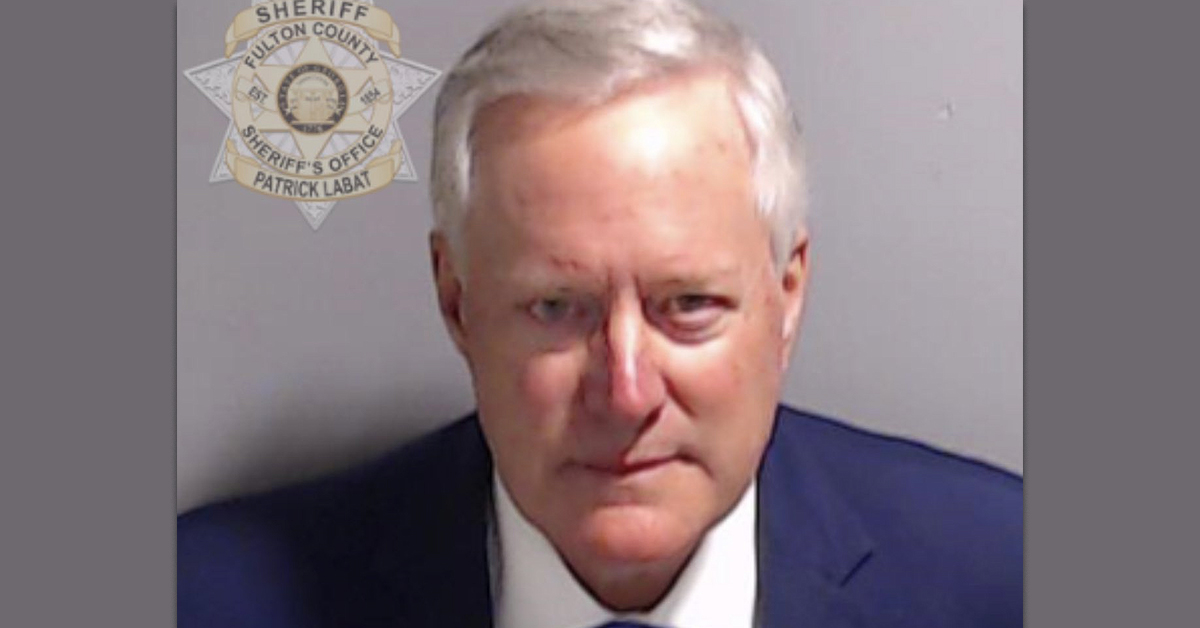 A new report connected the dots among Donald Trump's co-conspirators for his indictment in Georgia, and it established a pattern of behavior indicating the former president's allies will turn against him to legally save themselves.
Politico reported on Mark Meadows' potential legal strategy as the White House chief of staff faces charges connected with Trump's alleged conspiracy to overturn Georgia's 2020 election results. The report referred to court documents showing a strong likelihood that Meadows will join Trump's other former allies who will blame the ex-president and portray him as the "primary driver" of the racketeering enterprise they've been accused of.
From the report:
During a hearing in Atlanta, a defense attorney for Meadows called attention to Trump's prominent role in what is certain to be a crucial element of prosecutors' case there: the infamous Jan. 2, 2021, phone call in which Trump demanded that Georgia Secretary of State Brad Raffensperger, a Republican, "find" enough votes to declare Trump the winner.

Meadows arranged that pivotal call. But after prosecutors played audio of the call in the courtroom, an attorney for Meadows emphasized that his client's part in the actual discussion was both more minor and less provocative than Trump's.

"There's a lot of statements by Mr. Trump. Mr. Meadows' speaking roles were quite limited," Meadows' lawyer, Michael Francisco, observed as he cross-examined Raffensperger, who was called to testify by prosecutors.

"He didn't make a request that you change the vote totals — Mr. Meadows, himself?" Francisco continued.

"Correct," Raffensperger replied.
Politico tied their reporting on Meadows to last month's news that Yuscil Taveras, the IT director of Mar-a-Lago, reportedly retracted his court testimony and provided information implicating the former president in efforts to delete the resort's security camera footage. This bolsters the case against Trump's alleged obstruction of justice and mishandling of classified documents, though Politico also noted that David Shafer, Cathleen Latham, and Shawn Still have said in court filings that they were acting on instructions from Trump and his lawyers. The three were indicted as fake electors who tried to interfere with Georgia's election results.
"History has shown the 18 co-defendants that Donald doesn't care about anyone but himself," said former Trump lawyer Michael Cohen. "I suspect it will be every defendant for himself."
Here's more of what Politico flagged from Meadows' court documents:
Meadows made clear in his own testimony at last week's hearing that Trump viewed the false electors as a significant part of his strategy to remain in power. He said he sent an email pushing the campaign to assemble those slates because he feared a tongue-lashing from Trump.

"What I didn't want to happen was for the campaign to prevail in court action and not have this" lined up, he said.

"Why?" prosecutor Anna Cross asked him.

"Because I knew I'd be yelled at by the president of the United States," he said.
Have a tip we should know? tips@mediaite.com