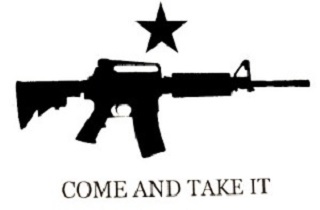 Eleven year-old Hunter Cogswell made news at a rally to protest the repeal of New Hampshire's "Stand Your Ground" law when he brought an AR-15, and a flag with a picture of an AR-15 on it which read "Come and Take It," to the State House protest in Concord. Although the state is a regional cousin to Connecticut, site of the horrific massacre that has sparked nationwide efforts to reduce gun violence, New Hampshire has some of the weakest gun laws in the nation, and an obviously different gun culture than some of its neighbors.
According to reporting on the rally, about 300 people showed up on Saturday to protest a recent vote in the New Hampshire House, including one very young gun enthusiast. From The New Hampshire Union Leader:
Organizers said the event, which happened to fall on the birthdate of Thomas Jefferson, was not a "gun rally."

But that didn't stop 11-year-old Hunter Cogswell of Concord from bringing an AR-15 and a big white flag with black lettering: "Come and Take It."

The boy said he was there to "stand up for gun rights."

"I believe in gun rights. It's our constitutional right," he said, adding the gun was real but "not loaded."
The photo published by the paper seems to indicate the youngster was given a wide berth by his fellow rallygoers. Ironically, no one in New Hampshire is trying to come and take Hunter's AR-15. It's already legal for Hunter to carry his AR-15, and according to the NRA's Institute for Legislative action, the only age restriction on guns in New Hampshire is a prohibition on the sale or gifting of handguns to minors…unless the gift is from a parent, guardian or executor to a child, ward or heir.
In fact, many of the nine gun bills currently under consideration by the New Hampshire legislature, aside from the "Stand Your Ground" repeal, make things easier for gun owners:
On the other side of the issue, Rep. J.R. Hoell, R-Dunbarton, is proposing a bill that would repeal the licensing requirement to carry a concealed weapon. A similar bill died in the last legislature.

Rep. Dan Itse, R-Fremont, will propose a bill to exempt firearms, firearm accessories and ammunition manufactured in New Hampshire from federal law and regulation. A similar bill died last session.

Another bill the past legislature failed to pass to reduce non-resident fees for pistol permits will be introduced this session by Rep. George Lambert, R-Litchfield.

A bill sponsored by Rep. Carol McGuire, R-Epsom, would protect gun owners from liability if a firearm is stolen and then used for a criminal act.
New Hampshire is tied for 27th place on the Brady Campaign to End Gun Violence's scorecard, along with neighboring Vermont, while Maine ranks 25th. Those states are geographically walled-off, though, by states with some of the toughest gun laws in the country. New Jersey, New York, Massachusetts, and Connecticut comprise four of the top five Brady Campaign states, and are all at less than half of the national average for gun deaths. Vermont (Brady score: 6), New Hampshire (Brady score: 6), and Maine (Brady score: 7), also fall below the national average for gun deaths.
California, on the other hand, is the #1 Brady-ranked state, and is significantly below the national average for gun deaths, but above average for gun homicides, gun robberies, and gun assaults. California is surrounded by states with Brady scores of 0 (Arizona), 5 (Nevada), and 15 (Oregon), all of which are above the national average for gun deaths.
(h/t TPM)
Have a tip we should know? tips@mediaite.com