Georgia Kids Seek To End 'Segregated Prom,' GOP Governor Won't Take Sides In 'Silly Publicity Stunt'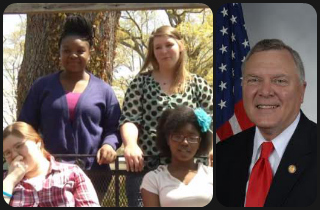 Straight out of a time capsule from 1963, one Georgia school district still holds racially-segregated proms for its Wilcox County High School students. A group of students — two black, two white — have gotten together to try and end the policy from a bygone era. After the news made its way to the governor's mansion, the state's Republican Gov. Nathan Deal has refused to take sides in the discussion, claiming the students are a front group for the Democratic Party and are engaged in a "silly publicity stunt."
The high school apparently holds separate proms, including a heavily-enforced whites-only one. WSAV reports that any race other than white would never dare attempt to attend to the white prom. Last year, a biracial student was reportedly turned away at the door by a police officer.
But the four students seek to end the separate dances and integrate into one promenade event. When the school refused to integrate the parent group-run events, they came up with a resolution to allow a separate "integrated" prom while not ceasing the whites-only event. The four students are now raising money to fund their racially-integrated prom, as the school's dance events are not funded by the school itself, but by parental organizations.
Despite the district's integration of the classrooms and athletic fields, a Columbia University journalist reported that the high school maintains many of the unwritten laws of the segregation era: "White students sit in the back during class, while black kids sit in front. Black kids have lunch outside while white kids have theirs in the yard. White students — particularly girls — who date black students risk being ostracized and bullied."
Seven Georgia state representatives — four Democrats, three Republicans — have voiced their support for the Wilcox students. But upon being asked by a liberal activist group to support the kids, Republican Gov. Deal declined comment and instead rebuked the group as "a leftist front group for the state Democratic party."
"We're not going to lend a hand to their silly publicity stunt," he added via an official spokesman.
— —
>> Follow Andrew Kirell (@AndrewKirell) on Twitter
Have a tip we should know? tips@mediaite.com