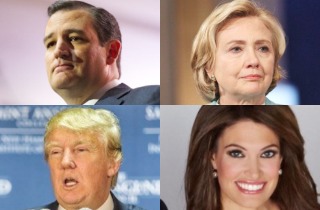 It's that day of the year again! A tradition like no other when your (again) overserved Mediaite columnist attempts to hammer out a can't-miss-prediction column in between meaningless Bowl games, the Winter Classic, and the 247th viewing of Frozen in the Concha household version of New Year's Day.
Last year's column had mixed results. Got a few things right: Naming the Super Bowl and NBA champs (Pats and Warriors), Stephen Colbert's downward trend to third after initial hype in the late night ratings race, the successful re-election of Bibi Netanyahu, and the president's approval jumping over 50 percent at some point despite lame duck status, which it did in October before dropping considerably following his "petulant" response to the Paris attacks. In other words beyond "petulant" applied by the liberal Richard Cohen of the Washington Post at the time: "If the Obama of today and not Winston Churchill had led Britain in World War II, the Old Vic Theatre Company would now be doing "Hamlet" in German." The president clocked in at 43 percent approval before going on vacation.
Also got more than a few things wrong, including: John Kasich being in the driver's seat for the Republican nomination (a pre-Trump-entry prediction, of course), American Sniper winning Best Picture (the equally-deserving Birdman took the trophy), Sherrod Small being named Red Eye's new permanent Friday host (Greg Gutfeld ended up stepping down altogether to concentrate on his own Sunday night show, and the replacement nod went to Tom Shillue instead), and a horrible prediction around the iWatch being next big thing in technology.
So this isn't a perfect science, not even close. Try going even 5-for-5 on the predictions front, let alone 15-for-15. If it were that easy, we'd all be living in Vegas right now acting like Biff in Back to the Future 2. Regardless, it makes for fun writing and hopefully somewhat compelling reading… so here you go:
– Ted Cruz wins in Iowa, South Carolina, and the SEC primary to propel the Texas Senator to the GOP nomination.
– Cruz's running mate: South Carolina Governor Nikki Haley.
– Hillary Clinton wins Iowa, loses New Hampshire, goes on to win Democratic nomination easily.
– Clinton's running mate: Former Massachusetts governor Deval Patrick.
– After finally bowing out of the race for the Republican nomination following key loses in the Deep South, Donald Trump signs with CNN and gets a primetime program (where the ratings will be, you know, the "H" word).
– The Arizona Cardinals defeat the New England Patriots to win Super Bowl 50, 27-24.
– The Cleveland Cavaliers defeat the Golden State Warriors in 7 to win first championship for the city in any sport in 52 years.
– The New York Mets top the Houston Astros in 6 to win its first championship in 30 years.
– Spoiled American media members complain about food, plumbing and overall conditions in Rio at 2016 Olympic Games.
– Spotlight wins the Academy Award for Best Picture.
– HBO's Girls is mercifully taken off the air upon completion of upcoming season as dozens mourn.
– Unfortunately (and obviously hoping against hope on this one) domestic terror events rise as ISIS-inspired lone wolves copycat San Bernardino to make a statement in an American election year. On cue, some on the left openly root for active shooter (while events are unfolding) to be a crazy right-wing white guy, while righty Twitter hopes shooter has a foreign — preferably Muslim-sounding — last name … showing how pathetic we've become as a society when attempting to advance a narrative.
– Kimberly Guilfoyle is named Elisabeth Hasselbeck's permanent replacement on Fox & Friends after an extended bake-off.
– Keith Olbermann returns to MSNBC.
– At least 21 members of the cable news family (hosts, reporters, contributors) tweet out something utterly stupid/ill-advised/out-of-bounds that forces an apology and/or suspension, because people simply do not learn from the mistakes of others in this business.
Can't miss, right? All absolute layups. Take it to the bank.
What are your predictions for 2016? Share them in the comments section where they will live forever below.
>>Follow Joe Concha on Twitter @JoeConchaTV
This is an opinion piece. The views expressed in this article are those of just the author.