18-Year-Old Arrested After Masquerading as Gynecologist for Second Time in a Year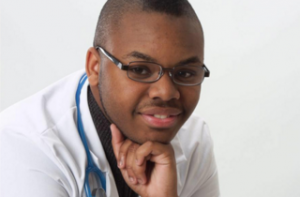 Last year, a 17-year-old kid was busted for "playing doctor" in the Ob/Gyn section of a local clinic. He was caught when he entered the exam room of a pregnant woman. When those news reports came out, he wasn't old enough to be identified by the media, but now that he's turned 18 and done it again, this time by opening his own clinic, we, the curious and alarmed public, get a little more information.
His name is Malachi Love-Robinson. To catch you up, here is footage of a news broadcast from the first time "Dr. Love" got picked up:
Pay close attention to how the anchor says that "both police and the hospital decided not to charge him" at the end of the clip.
He got charged this time. According to The Charlotte Observer, his charges are for practicing medicine without a license and he is being held on $6000 bail. Google searches reveal that he once had a Facebook and was featured on numerous medical practice review sites, but many have been removed. Some of the pages listing him as a doctor have not yet been taken down, though, so click here while you still can. Seems legit.
The Palm Beach County Sheriff's Office seems to be enjoying finally netting him when he examined an undercover officer who was sent in after he ignored a cease and desist order in October:
Just because you saw a season of Grey's Anatomy doesn't mean you could practice medicine. https://t.co/tw8QUXjtsj pic.twitter.com/dCBZX8CYCU

— PBSO (@PBCountySheriff) February 16, 2016
As mentioned, the kid opened his own clinic this time, and the website looks surprisingly good. Of course, the pictures are very clearly stock photos and there are a lot of typos, but overall, the website passes as believable. There appears to be a staff at the clinic, though no one answered the phone today. This post will be updated if the staff at New Birth, New Life returns my calls.
His grandfather, William McKenzie, told WPTV that all of this is surprising because he had believed Love-Robinson's medical practice to be completely legal. He said, "Well once he opened up the office and the practice I felt like it was something legit that he's trying to do."
Only a few weeks ago, the clinic had its grand opening. The Facebook event was created by Michelle Newsome, who is also listed on the clinic website's staff page. Both she and another staff member were also reached out to individually for comment and this story will be updated if and when they respond.
In the final twist in this story, Love-Robinson also stands accused of forging checks stolen from a patient's bag.
It doesn't get any more convoluted than this, folks. Please, please, do your research before going to any clinics.
[image via screengrab]
For more from Lindsey, follow her on Twitter.
Have a tip we should know? tips@mediaite.com