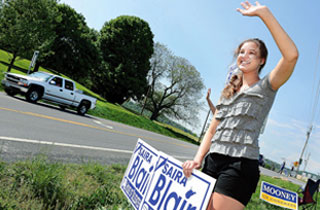 Last night, Republican Saira Blair won a seat in the West Virginia State Legislature, handily beating her Democrat opponent while running a campaign out of her dorm room.
Running on a fiscally conservative and pro-gun platform, Blair, who kicked off her campaign when she was 17 (she turned 18 over the summer), is now the youngest lawmaker in the nation, according to the Wall Street Journal. Blair plans to defer her spring semester at West Virginia University to participate in the House of Delegates' 60-day session, and will make up her classes in the summer.
"History has been made tonight in West Virginia, and while I am proud of all that we have accomplished together, it is the future of this state that is now my singular focus," she said in a statement thanking her supporters.
Impressively, Blair beat the 66-year-old Republican incumbent earlier this year, and won the vote against 44-year-old Democrat lawyer Layne Diehl, 63% to 30%. "Quite frankly a 17- or 18-year-old young woman that has put herself out there and won a political campaign has certainly brought some positive press to the state," Diehl said in a statement. "I look forward to seeing what her leadership brings to the state of West Virginia."
And unlike some other young candidates with parental help, Blair contributed her own money to the campaign. "Candidates should have some skin in the game," Blair explained. "I wanted voters to know I was serious."
[WSJ]
[Image via Blair for West Virginia]
—
>> Follow Tina Nguyen (@Tina_Nguyen) on Twitter
Have a tip we should know? tips@mediaite.com