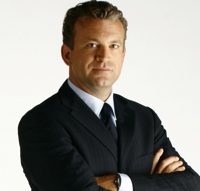 Dylan Ratigan is the host of MSNBC's Morning Meeting which airs weekdays from 9 to 11amET. He went to MSNBC on the heels of a successful stint hosting Fast Money, the CNBC show he co-created in 2006. Since joining MSNBC in late June, Ratigan has made a bit of a stir with his quick-wit and sometimes confrontational style. His interview with Betsy McCaughey over the Health Care debate got a lot of attention for being "one of the most brow-beating interviews in history," as McCaughey called it.
Ratigan's show has a major "meeting" focus – when introducing guests, it's not "welcome to the program," or "welcome to the show," it's "welcome to the meeting." And who was the featured guest of his first "meeting"?  None other than former New York Governor Eliot Spitzer. Here are our 5 Quick Questions for Dylan Ratigan:
1. How do you get your first news of the day?
My show is on pretty early and I'm not a morning person. So I typically get the first news of the day from the last three minutes of Morning Joe. Which is usually my pal Willie Geist talking about Rob Blagojevich and Sarah Palin.
2. Either, Or (you gotta pick one!):
Stock Exchange or stock cars?
You've obviously never watched me fight for real health care reform…I believe in more than limited choice for all Americans. That being said….I basically left a job that had me at the NY Stock Exchange and accumulated 11 speeding tickets in the past 3 years.
3. What's the biggest story the media has missed this year? (Or last week):
This is as yet unconfirmed, but a military source told me on background that the US is bribing Afghanistan goat herders with Viagra. I hear this is a story that could get bigger….
4. Obligatory Twitter Question: Describe yourself in 140 characters or less (hash tag optional!).
A man on a mission. #DylanRatigan
5. Are you nervous or excited about the future of Journalism? Why?
Excited because I think the growing competition will ultimately give the American people the best information they've ever had.. Nervous because the only difference between me and a kid on Skype is a graphics package and peacock logo.
Have a tip we should know? tips@mediaite.com