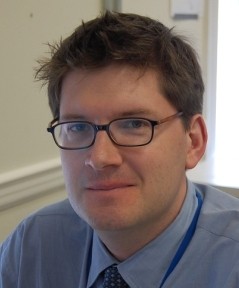 Olivier Knox has covered the White House for AFP since December 2000, before which he covered Al Gore's failed run for the presidency and Bill Clinton's impeachment trial, which were surely not related. Knox, the proudly bilingual offspring of a French mother and American dad, enjoys pointing out that the AFP is the world's oldest international news organization (est. 1835). We first discovered Knox via his informative and witty Twitter feed, which offer tidbits about U.S. policy, French etymology tips, and the requisite WH press-corps-kids-on-Twitter "beer summit" puns (his "Beard summit" suggestion went from the hirsute Mark Knoller of CBS to Liza Minelli). Apparently his toddler could name all the candidates in the 2008 election (even Nader?) – clearly he takes his job seriously. We're pleased to offer un petit fenêtre into the mind of Olivier Knox in this, our third installment of 5QQ – Five Quick Questions.
1. How do you get your first news of the day?
I check my blackberry while I make coffee, and my wife calls in reports from whatever morning show she watches while I'm in the shower.
2. Either, Or (you gotta pick one!):
White House or Camp David?
The White House.
Brady Briefing Room or Air Force 1?
Air Force 1 (the briefing room is good for flights of fancy, though.)
Blue Moon or Bud Light? (Or Sam Adams or Buckler)
Blue Moon. When it comes to beer, I'll pretty much drink what's cold, but my favorites are Harp draught, or Brooklyn in the bottle.
And your trivia for the day is this: Buckler beer was the chief sponsor of the professional basketball team of Bologna, Italy, from 1993-1996. Deep trivia: US soccer star Alexi Lalas played the national anthem when the Buckler played the Charlotte Hornets in 1994. (My job was to translate the NBA promoters' messages to the local cheerleaders. No, I don't know why I'm not doing that professionally today).
Francais ou Anglais?
Ah, non. Ce n'est pas juste. Anglais, sadly.
3. What's the biggest story the media has missed this year? (Or last week):
I'm too anxious about the stories that I have covered but botched to be able to answer that. I'm not a perfectionist — no wire service writer really can be — but I hate waking up at 3 AM in the middle of a nightmare in which I somehow got a huge mistake past the Desk.
4. Obligatory Twitter Question: Describe yourself in 140 characters or less (hash tag optional!)
#halfFrench #halfAmerican #thatsnotwritingthatstyping #SaintedWifeFan #dotingdad #caffeineaddict #scotchdrinker #snarkyidiot #bonvivant
5. Are you nervous or excited about the future of Journalism? Why?
Does anyone ever not answer "both"? I'm nervous about my future within journalism, of course. I'm excited about the prospects that smart, engaged people are getting involved in the process online. But there's no question that we are in a hugely difficult transition period. I don't know what comes next.
Check out Olivier Knox's bio on the AFP Website as well as his current standing on the Mediaite Power Grid
Have a tip we should know? tips@mediaite.com