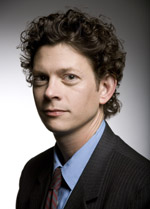 Thomas Goetz is author of the new book The Decision Tree: Taking Control of Your Health in the New Era of Personalized Medicine. Former FDA commissioner Dr. David Kessler calls The Decision Tree "a game changer," and Dr. Dean Ornish says that Goetz "writes more clearly and presciently about the future of health care than anyone on the planet."
The executive editor of WIRED Magazine, Goetz writes frequently on the confluence of medicine, health and technology. His cover stories at WIRED have covered the early detection of cancer, the advent of personal genomics, and the controversial diagnosis of metabolic syndrome. His work has been selected for both the Best American Science Writing and the Best Technology Writing anthologies. Since Goetz joined WIRED in 2001, the magazine has been nominated for 12 National Magazine Awards and has won six times, including the top award for general excellence three times, including in 2009.
Goetz has been a commentator for BBC Radio and appeared many times on CNN, CNBC, ABC, and other television outlets – but has never tasted the recognition known to those who've participated in Mediaite's 5QQ series. Until now.
1. How do you get your first news of the day?
I tend to start micro and get progressively macro – so I start with email, then I catch up on Twitter, then scan SFGate to see whether there's been an earthquake nearby. Then to Bloglines, and finally the New York Times – both the website and on paper. It takes about an hour to get up to speed.
2. either/or:
iPhone or Blackberry?
iPhone – but I also just got a Nexus One.
Moore's Law or Godwin's Law?
Moore's Law – but I'm especially fond these days of Saffo's not-quite-law (call it a guideline) on sensors.
Obamacare or Death Panels?
Um, considering I just wrote a book all about applying rationality, prudence, and intelligence to healthcare, I'm going to say Obamacare. In whatever form that may amount to, god willing.
3. What's the biggest story the media has missed in the last year?
I'm going to say healthcare. It sounds absurd – there was a tremendous amount of ink spilled on healthcare reform, and surely nobody could've missed that it was in the news. But I found the media's approach totally lacking for three reasons.
First, it was consumed with tick-tock about this bill or that piece of legislation – 90% of which didn't make it to the likely departed version the Senate eventually passed. This reduced the historical significance of transforming our healthcare system into a shuttlecock swapped between John "OrangeMan Group" Boehner and Nancy "I left my soul in San Francisco" Pelosi.
Second, it suffered from the classic problem of news-in-progress, which is that it read like an episode of Lost – if you hadn't been folllowing along every step of the way, there was scarcely a foothold for people to catch up.
Third, it failed to connect the political process with how people actually experience healthcare – a true travesty, considering the same press corps actually succeeded to engage people with the election just a year earlier. The result was that the American people didn't connect healthcare reform to their own health – which is what it all boils down to. This country has not just poor healthcare, but poor health – this means nearly all of us, not just the uninsured. We may've missed our best chance in 50 years to fix that.
4. Obligatory Twitter Question: Describe yourself in 140 characters or less (hash tag optional)
Please RT! @tgoetz is a journalist who's banking on a second career in healthcare punditry. #deathofprint #HCR #thedecisiontree
5. Are you nervous or excited about the future of journalism and media?
I'm actually seriously pumped about it. I'll point to two things: Dave Eggers' Panorama newspaper, and the iPad. The Panorama newspaper was a one-off; it won't scale. But it was a fist-pumping 320-page manifesto that implicitly demonstrated why print matters, and how it can be used to great ends when given the chance. And it showed how creativity, ingenuity, and full-throated communication are all valuable, even in a world of devalued content.
Likewise, the iPad and other tablets (there'll be as many as 30 such devices by years end) demonstrate that the vocabulary of print can translate readily to a digital environment when given a suitable form. I'll go further: print media offers a lingua franca for this tabula rasa – someplace to start thinking about how we communicate ideas and package entertainment. This is the way we think of our mission at Wired – we're not a magazine; we're an idea delivery service. Right now, print is the best package we've got, and it works beautifully. But the tablet could help us do the job just as well or better.
Have a tip we should know? tips@mediaite.com