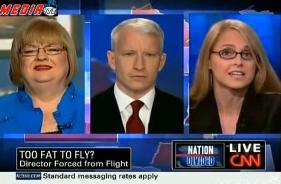 The Kevin Smith-Southwest Airlines debacle has become a major topic on the news networks so far this week, even as the director has refused to talk to the media about the ordeal.
Here's a look at one debate on CNN last night, as well as the latest blog battle between both sides.
On Anderson Cooper's 10pmET show last night, the CNN host welcomed two opposing fat-related guests: Peggy Howell of the National Association to Advance Fat Acceptance and Meme Roth of National Action Against Obesity. With the subject matter and the strongly different perspectives, the conversation was bound to get a bit heated. Howell said, "I don't know why he was removed," and said it was "absolutely" discrimination.
Of course, Roth disagreed, and praised Southwest for their handling of the situation. "I've never been given a $100 voucher for sitting in my seat!" she said. And later: "What they're really expecting us to do is subsidize the lifestyle choice of those who habitually eat improperly."
Meanwhile the blog battle continues. After Smith and "Linda" had a lengthy conversation that Smith thought was productive, this became the airline's new public statement.
Although I'm not here to debate the decision our Employees made, I can tell you that I for one have learned a lot today. The communication among our Employees was not as sharp as it should have been and, it's apparent that Southwest could have handled this situation differently. Thanks, Kevin, for your passion around this topic. You were a reasonable guy during our conversation.
Throughout the blog post, there was no acknowledgment that any mistake was made to remove him from the plane, which was the whole problem to begin with. Smith responded:
You guys screwed up, SWA; why's it so hard to own up to it? Now I'm gonna carry this Too Fat To Fly shit around like herpes for the rest of my life, and it was never even true.

So, Linda: I appreciate the effort you made, the time you spent with me on the phone, and the work you put into this. You, too, were a reasonable cat during our conversation.

But wrapping up with a repeating of that 2 seat policy (the one THAT HAS NO BEARING ON MY CASE) is a reminder that you guys haven't learned anything: you're still blaming it on the Fatty.
Smith said he plans to drop it today, however, so we may not see Kevin Smith, media star, any time in the future – although he does have a new movie to promote! I'm sure the news networks will stick to Tracy Morgan-related questions when that happens…
Here's the AC360 debate:


—–
» Follow Steve Krakauer on Twitter
Have a tip we should know? tips@mediaite.com