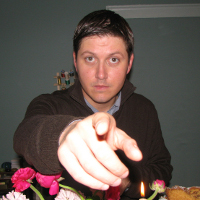 Will Leitch has carved out quite a spot for himself in the online-media-scape. From his old "Life As a Loser" column (which also led to his first book), to founding Deadspin, to his current gig at New York Magazine, Leitch's place as one of the internet's most prominent voices is secure.
He's also the author of a new book, Are We Winning?: Fathers and Sons in the New Golden Age of Baseball. According to Leitch, the book is "about fatherhood and baseball and how they're connected and all kinds of silly things that have been said a million times before but I hopefully captured in a different way." The book is set around one game between the St. Louis Cardinals (Leitch's favorite team) and their rivals, the Chicago Cubs. Each chapter represents one half-inning of the game. As for the "New Golden Age of Baseball" subtitle, Leitch is more bullish on the game's future than many. "I think the general media meme about baseball being somehow more scandalous than other sports, or less popular, or somehow for older people, is completely wrong," he said. "Baseball is more popular than it has ever been, and after the NFL and NBA tear themselves apart with labor woes in the next couple of years, it'll be more powerful."
He also had some interesting comments on Mediaite when we first launched. Has his view on our Power Grid, and that of our soon-to-launch sister site SportsGrid (on which he'll also be featured) changed at all? Well, not really: "I probably won't check the media grid because if I start, I will never stop. It's the same reason I never looked at traffic numbers while at Deadspin, or Amazon numbers now."
Much more important than all this, however, is that Leitch is the latest participant in our ongoing series, 5QQ.
1) How do you get your first news of the day?
Honestly? Twitter. I can roll over in bed and have a pretty good idea of what's happening in the planet in about 25 seconds, and it's not so complicated or difficult that my groggy, just-woke-up brain can't comprehend it.
2) Either/or (gotta pick one):
For the consumption of media, Twitter. For its creation, Tumblr.
– Willie McGee or Darrell Porter? (ed. note: Leitch once picked McGee and Porter as his two favorite St. Louis Cardinals of all time)
Oh, what a mean question. I'll have to say Darrell Porter, because his story is so sad and came to such a tragic end that attaching myself to it will give me a fake gravitas that I haven't earned.
– Ron Zook (head football coach at the University of Illinois, Leitch's alma mater) on water skis, or in a teacup?
Water skis. Remember: The man pisses intensity. His urine is currently being used by our troops in Afghanistan.
– Statistically-inclined baseball sites edition: Baseball Prospectus or Fangraphs?
These questions are hard! I'm going to go, at this second, with Fangraphs, just because I miss [co-founder] Joe Sheehan so much on BP. But I read pretty much everything both sites have on them, all the time. I even listen to all their podcasts. Nothing pumps you up at the gym more than the soothing baritones of Will Carroll and Carson Cistulli.
– Quentin Tarantino or the Coen Brothers?
For pure sustained quality, Coen Brothers. For the dizzying highs that just make you feel euphoric that movies exist, QT.
3) What's the biggest story the media has missed this year?
Is there a story they've missed this year? I have so much information in my brain right now that it's too much; I would appreciate it if they would start missing some stories so I could have a moment to rest.
4) Obligatory Twitter Question: Describe yourself in 140 characters or less. (Hashtag optional!)
The only thing I'm any good at or really enjoy is typing very fast. I apologize in advance if you encounter me in any other context. #sorry
5) Are you nervous or excited about the future of journalism? Why?
I'm excited. As someone who produces it for a living, with dozens of friends who do as well, I'm a little nervous in the short term about the financial aspects. But as for the living art of journalism? Lord, I am so freaking well informed now I don't know what to with myself. Isn't that what the point of all this was supposed to be? Informing the public? I assure you, this member of the public is overflowing with information. I might not need most of it, but I can't say it's not being done at a dramatically impressive rate.
Have a tip we should know? tips@mediaite.com