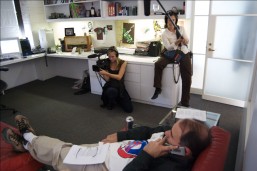 Imagine, if you will, that you happened to be one of the many people (many in 2004 numbers anyway) watching the 2004 Democratic Convention. You happen to catch then Illinois State Senator Barack Obama's roof-raising, career-making (to put it mildly!) speech and you decide, wow this is a guy going places. I should get a camera and follow him! Amy Rice does not need to imagine this scenario because this is exactly what happened to her. And instead of thinking I should get a camera and follow this guy, she actually did, for four years.
Rice, an Oklahoma native who lost a brother on 9/11, had initially wanted to do a documentary about Howard Dean, but got sidetracked once she heard Obama's speech. Eventually she brought filmmaker Alicia Sams and producer Edward Norton (yes, that Edward Norton) and to make a very long, hard, campaign story short, they were able to make the documentary of a lifetime. By the People: The Election of Barack Obama premieres tonight on HBO (trailer below). Rice and Sams were kind enough to answer our 5QQ – Five Quick Questions whilst in the middle of a media blitz.


1. How do you get your first news of the day?
Amy: First the BBC website, then the NYTimes website, next Drudge Report, then some Morning Joe on MSNBC.
Alicia: My husband reads me the headlines off his blackberry in bed, then my NPR alarm goes off, and then I read the NYTimes newspaper.
2. Either, Or (you gotta pick one!):
War Room or Journeys With George?

Amy: War Room!
Alicia: War Room

Dreams From My Father or The Audacity of Hope?

Amy: Dreams From My Father
Alicia: Dreams From My Father

2004 Speech or Race Speech?

Amy: 2004 Speech
Alicia: 2004 Speech

Obama Girl or Will.i.am?

Amy: Will.i.am (Obama Girl, Really?)
Alicia: Will.i.am

Plouffe or Axelrod?

Amy: Plouffe or Ax?? How do you choose??
Alicia: Plouffe or Ax- that's Sophie's choice

Iowa or New Hampshire?

Amy: New Hampshire. It was the greatest lesson for the Obama camp and extended the primary (and our narrative more importantly), which totally prepared them for the general election.
Alicia: Iowa (I just love Iowa)
3. What's the biggest story the media has missed this year? (Or last week):
Amy: Biggest story the media has missed this year – totally the Jon and Kate Plus 8 story, why isn't anybody writing about this?
Alicia: Glenn Beck's alien love child
4. Obligatory Twitter Question: Describe yourself in 140 characters or
less (hash tag optional!)
Amy: Tired
Alicia: Tired
5. Are you nervous or excited about the future of journalism? Why?
Amy: I'm nervous about the state of journalism due to the economic challenges our media is facing, combined with the pressures and demands from the 24 hour news cycle. What we call news has changed a lot since my parents used to read the paper with us around the breakfast table.
Alicia: Yes, because I like holding a newspaper in my hands, and I hope journalists can afford to maintain their independence.
Bonus question: Your favorite memory from the campaign trail.
Amy and Alicia: Obama wins Iowa

Have a tip we should know? tips@mediaite.com