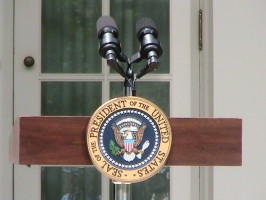 Earlier today, Mediaite's Glynnis MacNicol reported on a new Rasmussen poll that indicates that while 44% of adults (although they never do get to how the children would vote) say they would vote to re-elect President Obama were the election held today, 49% say they would not. She correctly notes that the poll doesn't consider a hypothetical opponent, or other variables.
Luckily for hypothetical Barack Obama, if the election were held today, somebody would have to get 45% of the vote in order to beat him.
While a poll like this unquestionably bespeaks a deep dissatisfaction among Americans, it doesn't tell the whole story. According to a recent NBC/Wall Street Journal poll, not only is there a lot more of this sandwich to go around, President Obama gets a relatively small bite of it.
That poll pegs Republican Party favorability at 25% versus 46% unfavorable, while the Democrats are at 42% favorable, 36% unfavorable. On health care reform, 64% disapprove of the job Republicans in Congress are doing. By a 46%-38% margin, voters hope the Democrats retain control of congress in 2010.
The Republican Party's most visible star, Sarah Palin, has a 27% approval rating in this poll, enough to eke past Nancy Pelosi. Even in a CNN poll that has her at 44% approval, 71% say she's not qualified to be president.
What this poll really means is that the country is messed up, and people want it to get fixed more quickly than it is, as quickly as they hoped it would. President Obama is only losing to candidate Obama. The thing is, problems like the economy and the wars in Iraq and Afghanistan were never supposed to be solved in nine months.
The Republican strategy of trying to win every news cycle may be taking a toll on Obama now, but they need to offer Americans something they like better. They're certainly not doing that now.
Have a tip we should know? [email protected]