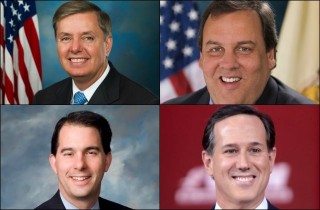 Rick Perry mercifully announced on Friday that he'd be the first to drop out of the 2016 presidential race, leaving just 16 candidates on the Republican side of the house vying for the party nomination. In the end, Perry 2.0 came across as an odd caricature combination of Will Ferrell doing George W. Bush with a sprinkle of Perry doing Reagan and a touch of Rachel Maddow via the "I'm smarter than I was in 2012" glasses. And his message — what he actually brought to the table — was never quite clear, and/or was drowned out by Donald Trump (particularly on border security).
As CNN's David Alexrod pointed out over the weekend: "Who ever thought Rick Perry, a frontrunner four years ago, would beat out Jim Gilmore as first of 17 to say adios?"
So who else should say goodbye to the dream of becoming our 45th president? Here's your unlucky seven using the reality of polls, zero momentum and an inability to resonate on any level as gauges.
Lindsay Graham: London bookmakers have the senator at 66-1 to win the nomination. No shock there, until seeing that he's trailing John McCain, who, you know…isn't actually running. Graham always argues that the tide will turn when the primaries come to South Carolina, except when they won't: 78 percent of South Carolina Republicans say he should drop out of the race now.
Jim Gilmore: I know… thanks Captain Obvious for that stellar analysis. But here's the truly bothersome thing about this alleged campaign: The former Virginia governor has yet to hold an actual campaign event since announcing months ago. At this point, you half expect him to to pull a James Stockdale circa 1992 and ask, "Who am I? What am I doing here?" Scratch "bothersome" from the record, actually… let's call this reclusive candidacy insulting.
George Pataki: A three-term governor of a major state (and a very successful one at that). Moderate on issues like gun control and abortion. Physical stature like Abe Lincoln. Problem is the 69-year-old is four cycles too late, having missed whatever legitimate chance he had at the White House back in 2000.
Rick Santorum and Bobby Jindal: Santorum points to his comeback in 2012 as a reason to keep plugging along. This ain't 2012, however, as the field in infinitely deeper and more talented than the one that featured Herman Cain and Newt Gingrich at the top of the polls at one time or another along with Michelle Bachmann winning the retired Iowa Straw Poll and the wooden Mitt Romney taking the nomination. As for Jindal, he jumped into the race with a 27 percent approval rating in Louisiana and is currently polling at 0.4 percent nationally. And for both Santorum and Jindal, a third kiddie table appearance would just look so poor (next debate is scheduled for October). And unless there's a Fiorina-esque breakout moment at the condensed kiddie table this Wednesday, it's time for both to find something else to do.
Chris Christie: Like Hillary Clinton, he's toast due to perception of dishonesty alone. Yes, legally Christie was never indicted in Bridgegate, just as Hillary hasn't been indicted for her home-brewed email server (still under FBI investigation, of course). Here's the point: Once people have the perception you cannot be trusted, it's almost impossible to put that toothpaste back in the tube (as Hillary is learning while falling behind Bernie Sanders by 22 points in New Hampshire and 10 points in Iowa). And in Christie's case, only 23 percent of New Jersey residents believe his account on Bridgegate, which is particularly notable when considering over 60 percent of Garden Staters re-elected him just two years ago. Numbers don't lie: The governor has put all his eggs into the New Hampshire basket and has campaigned there heavily. Result? 10th place, 3.7 percent in RCP polling, which is only 30 points behind the GOP frontrunner (Trump). Good night and good luck.
Scott Walker: As mentioned in this space last month, he's gone from frontrunner to complete afterthought both nationally and in Iowa, which is a win-or-go-home situation for the Wisconsin governor. He's now in 10th place nationally at two percent while tied for fifth in the Hawkeye State, down 23 points there. Unless he makes a huge second first impression at the CNN debate on Wednesday, it's time to panic.
Back in August, the kiddie debate table was a nice appetizer from a political theatre perspective and Fiorina owes her current surge because of it. But come Tuesday night, with just four candidates there in Pataki, Jindal, Graham, and Santorum, it will an awkward date with little purpose considering how irrelevant all of its participants have become.
One more meal gets served up on Wednesday around Happy Hour here in the East. But after the show is over, it's time for all the candidates above to ask for the check… and check out.
[Images via U.S. Senate, Gage Skidmore, and States of New Jersey and Wisconsin]
— —
>> Follow Joe Concha on Twitter @JoeConchaTV
Have a tip we should know? tips@mediaite.com