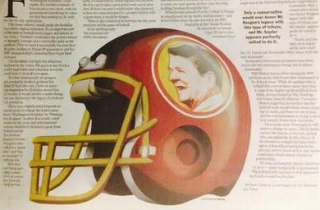 Last week the U.S. Patent and Trademark Office canceled trademarks for the Washington Redskins, ruling that the name was "disparaging" to Native Americans. The decision came after a lengthy public relations battle against entrenched team owner Dan Snyder, who maintains that the clearly demeaning name somehow honors the brave legacy of something or other.
Over the last year or so there have been numerous suggestions for what the team should change their name to, most of them tongue-in-cheek. But one has caught on in right-leaning circles, as Michael Taube wrote yesterday in the Washington Times: The Washington Reagans. As I've written here before, it certainly would bring us one step closer to the Republican dream of naming the entire country after Ronald Reagan.
"This idea isn't being seriously considered, of course," Taube wrote. "But if people keep getting their knickers in a knot about the Redskins' trademarks every 10 or 15 years, why not change the team's name to the Reagans?"
He's sort of joking, but he does bring up a good point:
For one thing, it would be the ultimate tribute to Ronald Reagan. Many Americans, and the vast majority of conservatives, would applaud this decision. He was a great man, a great patriot and a great president. If there was ever a world leader who deserved to have his name associated in a positive fashion with a sports team, it would be Reagan.
Reagan also played football as a young man, he points out, and starred in that movie one time about football, which are pretty good arguments for naming an entire team after him, you have to admit. But there are plenty of other reasons why the name change just makes sense. To wit:
1) The NFL itself is a tax-exempt organization, despite the fact that commissioner Roger Goodell pulls in a yearly salary of $30 million. Incidentally, when Reagan came into office in 1981, the top tax rate was 70%, and when he left in 1989 it was 28%.
2) Reagan raised taxes 11 times during his administration, effectively hampering the middle class for generations to come. Considering how often NFL teams squeeze local taxpayers for government hand outs in the construction of their facilities and stadiums, it's a nice bit of synergy that just makes the name change feel right. Just last year, in fact, the Redskins themselves were the recipient of a $4 million gift from the Virginia Gov. Bob McDonnell for an upgrade of a new workout facility. A few years back Dallas Cowboys owner Jerry Jones was awarded $325 million from taxpayers for the construction of his monstrous edifice/ cash printing machine, for which Arlington citizens got a higher sales tax in exchange. The Gipper's legacy replicates itself in the sports world?
3) The Redskins were the last team to racially integrate, 52 years ago. Notably Reagan was a supporter of the South African government during apartheid, and voted to veto a bill to impose sanctions on the country at the height of anti-apartheid sentiment. Speaking of racism, you may recall Reagan's infamous speeches about the scourge of the "welfare queens," a racially-tinged stereotype that reverberates throughout politics to this day. The language of segregation and racial stereotypes is woven deeply into the fabric of Reagan and his predecessors' legacy, so a shift from Redskins to Reagans is really only sort of a lateral move that should appease the virulent types of people who cling to the old names' sense of tradition.
4) Reagan signed a bill into law that provided amnesty for millions of illegal immigrants. This sort of border openness is in keeping with the NFL's plans to expand into other countries, particularly as has been mentioned many times, with a team in Mexico City, where they played a game a few years back.
5) Reagan's actions helped create the Taliban and, in some ways, made Osama bin Laden possible. Without those current day threats of endless war and terrorism, much of the militaristic "honor the troops" pageantry that goes on at every NFL game ever wouldn't be possible.
6) Despite a widespread AIDs epidemic unfolding under his watch in the '80s, Reagan ignored the issue, and didn't speak out on it until 1987, after thousands had died. This head-in-the-sand style of governing makes him a natural fit for the proud fraternity of the NFL, who themselves ignore a health epidemic going on right in their own back yard for decades as the evidence for concussions and health issues mounted.
7) Speaking of which: What better way to honor the real legacy of the NFL for its players than by naming a team after a man who, like many of them, went on to suffer from dementia and serious mental health issues later in life?
[Image via]
— —
>> Luke O'Neil is a journalist and blogger in Boston. Follow him on Twitter (@lukeoneil47).
Have a tip we should know? tips@mediaite.com