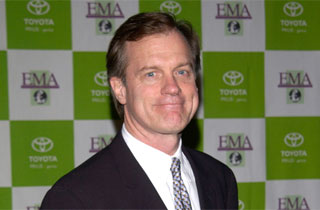 In an audio recording obtained by TMZ, actor Stephen Collins, best known for playing the pastor father on the 90's drama 7th Heaven, admitted to repeatedly molesting underage girls for many years.
The tapes were recorded by his estranged wife Faye Grant during a couple's therapy session in 2012. According to TMZ, California law allows Grant, who is currently in a "nasty, prolonged divorce" with Collins, to record any conversations as evidence of a violent felony — in this case, molestation of a child under the age of 14.
In the tapes, Collins admits to molesting at least three underage girls, one of them a relative of his first wife who he had contact with for several years starting when she was 11. "There was one moment of touching where her hand, I put her hand on my penis," he said, adding that he also exposed himself to her "a couple of times."
The NYPD currently possesses the tape and has opened an investigation into the allegations, telling TMZ that they are currently interviewing "at least three victims."
The audio can be found over at TMZ.
UPDATE (2:12 PM EST): According to TMZ, the LAPD had received a copy of the tape in 2012 and had conducted a formal investigation, but closed the case. They are now reopening the case and "re-listening" to the tapes, working with the NYPD to see if they had "missed anything."
UPDATE (4:20 PM EST): Entertainment Weekly reports that Collins has been fired from Ted 2, a movie about a talking teddy bear.
[Image via Featureflash / Shutterstock.com]
— —
>> Follow Tina Nguyen (@Tina_Nguyen) on Twitter
Have a tip we should know? tips@mediaite.com