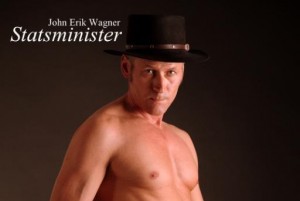 Meet John Erik Wagner, the Danish political candidate whose new poster is getting international attention ahead of Denmark's June 18 election for the office of prime minister. Why? Oh, nothing really — except for fact that he's wearing nothing but a cowboy hat and a gun belt, the latter of which just barely hides his manhood.

That's right, folks. A politician somewhere in the world has finally decided to forgo all pretense and just let it all hang out for the public's approval (or otherwise).
Bu da böyle bir seçim çalışması. Danimarkalı başbakan adayı John Erik Wagner'in Kopenhag'ın her yerindeki afişleri. pic.twitter.com/iFFhPdwew2

— antilumpen (@mailarasi) June 2, 2015
As Mashable notes, Denmark's English news site The Local reports that the posters have gone up all over Copenhagen a few weeks ahead of the country's elections for Prime Minister on June 18. And despite the ad's revealing nature, it's nothing new for Wagner:
The 52-year-old from the Copenhagen district of Amager has been running in parliamentary, local and regional elections since 2005. Most of that was with little attention but that changed in 2013 when he burst onto the stage in his customary cowboy get-up during a live televised municipal election debate to protest the exclusion of smaller parties.
The posters are definitely attention-grabbing (among other things), but they probably won't get Wagner any real political clout in Denmark. So I've decided to offer the bare-bones candidate some additional campaign slogans, free of charge:
Help Wagner get up on June 18.
His handshake isn't flaccid, either.
Do you have what it takes to pull Wagner's lever?
My Prime Minister is a naked cowboy enthusiast.
Don't let Denmark limp along — Vote for Wagner.
The world is watching — Will they like what they see?
Don't leave any pregnant chads behind on election day.
Wagner knows when to holster his weapon. He also knows when to use it.
[h/t Mashable]
[Image via John Erik Wagner/Twitter]
— —
>> Follow Andrew Husband (@AndrewHusband) on Twitter
Have a tip we should know? [email protected]