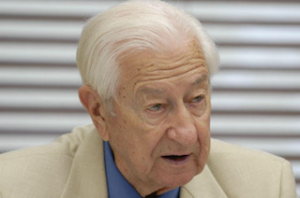 When Rep. Ralph Hall (R-TX) spontaneously showed up at a LGBT pride month event last week, some attendees thought they may have been witnessing a breakthrough in the 90-year-old congressman's history of opposition to the gay community. But apparently, it just turns out he was lost.
The Houston Chronicle's Chron blog reports that Hall attended the LGBT event for the Victory Fund, and spent some time drinking and chatting with other party-goers before he realized he was in the wrong place. Hall and his staffers believed they were at an event for one of his fellow congressmen, but when he asked where his colleague was, he discovered his mistake.
"At that moment I realized that this was not the reception I intended to attend," Hall said, "and I put down my glass, thanked the sponsor, and told him we would be leaving." He added, "Many of those in attendance probably were surprised to see me walk in, but were not surprised to see me leave quickly."
A couple of the event's attendees spotted the out-of-place congressman and pointed out the "progress" and/or incongruity of his presence on Twitter: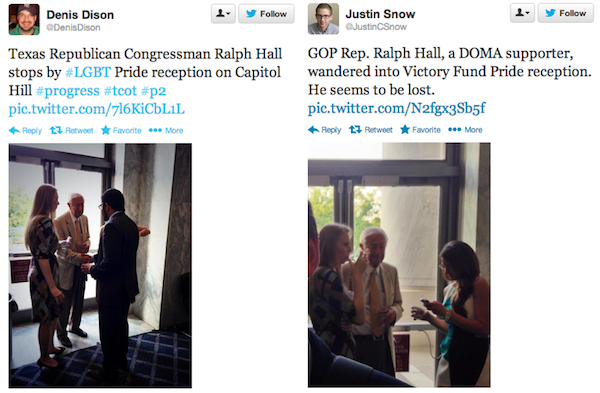 On his congressional website, Hall outlines his strong support of the Defense of Marriage Act (DOMA) and calls President Obama's decision to have his Justice Department drops its defense of the measure "outrageous." Presumably, his proposal to "amend the Constitution" to state that "marriage is strictly defined to be a union between a man and a woman" did not come during the brief time he spent sipping cocktails with gay rights activists.
—
>> Follow Matt Wilstein (@TheMattWilstein) on Twitter
Have a tip we should know? tips@mediaite.com