A Gleeful Meghan McCain Foretells the Downfall of Clinton's 'Henchwoman' Huma Abedin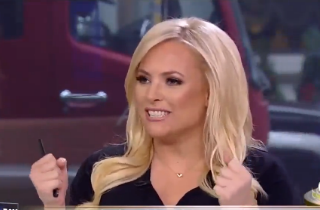 No two days here at Mediaite are the same, but there is one constant that I can rely on every morning when I step into the office: at noon, I will turn the channel to Fox News on the TV nearest to me and settle in for Outnumbered. That is an hour-long program that is always sure to deliver at least one shocking moment or soundbite. Since I've been watching it religiously for some time now, I know that the favorite topic of all of the panel members is the Hillary Clinton email scandal. They discuss it every single day, even though 59% of people reported being "tired" of hearing about the emails as early as last October.
Today was a very meta day on Outnumbered because not only were the women discussing the emails, but they were discussing why no one else wants to discuss the emails as much as they do. In particular, they went after Bernie Sanders, who remarked in a debate last fall that people are sick and tired of hearing about Clinton's "damn emails."
Kennedy stated that she was surprised an idealistic candidate like Sanders wouldn't care more about the emails, which she sees as "corruption to its core." Then, Meghan McCain jumped in with this:
I think the moment in that debate when he said, "nobody cares about your emails," is actually like, "yeah, a significant portion of the population does," but that's when my conspiracy theory hat comes in and I'm like, "Are you in cahoots with all of this? Why is this not a big deal to no Democrats?" She committed a felony and I say this every single time I'm on this show: Henchwoman Huma [Abedin] — I cannot wait to find out what's in her emails! I want her to face legal action if Hillary doesn't because she has gotten away with so much for so long and Hillary Clinton and her entire team think she's above the law and it's why 65% of the American public doesn't trust her.
While pivoting to long-time Clinton aide Abedin, she clenched her fists and her jaw and could barely hide how excited the prospect of the aide facing legal action was to her. It was quite a lot to take in.
[image via screengrab]
For more from Lindsey, follow her on Twitter.
This is an opinion piece. The views expressed in this article are those of just the author.