Aaron Schock and Abe Lincoln Actually Do Have Something Very Serious in Common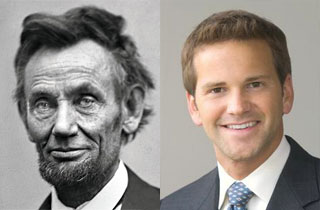 Yesterday, the world wondered whether Rep. Aaron Schock was being presumptuous when he compared himself to Abraham Lincoln in his farewell speech to Congress. You know what's funny? He's not that far off, especially since they both came under fire for excessive mileage billing!
A recent report in ProPublica on the history of data journalism revealed that Nate Silver didn't invent the form in 2008. In fact, American journalists have used it to nail public figures since the 18th century, and in 1848, New York Tribune editor and newly-elected Congressman Horace Greeley decided to tackle the growing issue of mileage overbilling:
The law provided for a 40-cent per-mile mileage reimbursement, and computed the distance "by the usually travelled route." after taking his seat, Greeley got a look at the schedule listing every congressman's mileage and was shocked by the sums. To Greeley, the disbursements were a wasteful relic of an earlier time, when travel to and from the far-flung reaches of the United States would have been a costly, bruising affair. The 40-cent mileage had been calculated decades earlier to match a pre-1816 congressman's pay rate of $8 a day, assuming he could travel a mere 20 miles per day. However, thanks to steamships and the increasing prevalence of trains, travelers could go far faster than that.

Greeley saw it as an outrageous waste of the taxpayer's money, and deployed his newspaper to correct that wrong. "If the route usually travelled from California to Washington is around Cape Horn — or the Members from that embryo State shall choose to think it is — they will each be entitled to charge some $12,000 Mileage per session accordingly."
He then set one of his reporters to work calculating the most efficient distance between D.C. and the members' home districts, and published a column listing individual members and how much mileage they attempted to reimburse. Lincoln, whose Congressional district is now part of Schock's district was one of the worst offenders, billing Congress $677 (about $18,700 in today's dollars).
Lincoln's career eventually ended in disgrace, as the Pinkertons discovered that he used taxpayer funds to fly on an iron eagle owned by a telegraph company owner, and buying young street urchins tickets to a traveling minstrel show starring Katy Perry, oh wait no he didn't.
[h/t The Washington Post]
[Image via Instagram/Wikimedia Commons]
—
>> Follow Tina Nguyen (@Tina_Nguyen) on Twitter
Have a tip we should know? tips@mediaite.com