ABC's Jonathan Karl Takes Stealth Shot at Hypothetical Kathleen Sebelius Resignation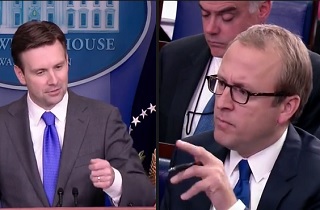 At Thursday's White House daily briefing, ABC News Chief White House Correspondent Jonathan Karl joined many of his other colleagues in questioning Principal Deputy White House Press Secretary Josh Earnest about the President's views on the "nuclear option" Senate rule change, but also managed to get in a stealth shot at Department of Health and Human Services Secretary Kathleen Sebelius, who has been, for many, a scapegoat for the rocky Obamacare rollout. Posing the embattled official's resignation as a hypothetical, Karl's question elicited a defensive response from Earnest.
Karl began by asking a broader question about filibuster reform. "Both you and the President mentioned gun control legislation among the list of things that had majority support but couldn't pass because they were being blocked in the Senate," he said. "Is it the President's view that this so-called nuclear option of doing away with the filibuster should also apply to legislation as well as to nominees?
"Well, that's certainly a decision that — these kinds of procedural questions should be directed to Leader Reid," Earnest replied, adding "I think the President's frustration at the increasingly frequent, if not constant use of the filibuster is something that we're very frustrated by. It has stymied progress on a whole range of priorities. But for tactical — for questions about tactics or procedure in the Senate, I'd refer you to Majority Leader Reid's office. The decision that he made today in terms of Senate procedure and freeing up a yes or no vote on these specific judges to the DC Circuit is something that we strongly support."
"And cabinet nominees?" Karl asked. "For instance, if there were to be a change at someplace say, like, I don't know, HHS, would you expect that to be something that could go on an up or down vote, a new nominee?"
Earnest replied that "I'm not an expert on Senate procedure, but there is an HHS Secretary who is serving right now, and is working very hard ,and has the full confidence of the President of the United States."
Here's the clip, from The White House:
Have a tip we should know? tips@mediaite.com