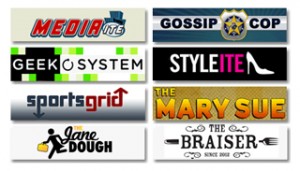 2012 was a truly transformative year for the Abrams Media sites with record high traffic numbers, a new and over-performing site launch with TheBraiser.com, and just as important, revenue numbers that dwarfed any previous years. In fact, year-to year-traffic is up over 70% across the sites, and revenue an equally impressive 82%.
That success has allowed me to expand the business in a variety of exciting ways. We will be launching a new site that I will announce in the weeks to come but just as importantly, I am investing in the sites and business we already have in place as well as exploring new exciting partnerships. In the past month, I have made some major additions to the company and plan for more in the days and months to come.
At Mediaite.com, Matt Wilstein, founder of the Gotcha Media Blog, which launched in November, 2008 to highlight the intersection of comedy and politics, will become our LA bureau chief beginning today, expanding our west coast coverage of the entertainment media and late night programs.
Over at Geekosystem.com, we have seen enormous advertiser interest in the past six months and, as a result, I have added two new full time writers, Steven Romano and Glen Tickle, to work with Managing Editor Rollin Bishop and Senior Editor Ian Chant. Sarah Devlin is now overseeing day-to-day operations at TheJaneDough.com, and last month we added Colette McIntyre to that team as a full-time writer. Furthermore, we are thrilled that the former Editor-in-Chief of TheGrindstone.com, Meredith Lepore, is now writing for TheJaneDough on a regular basis as well.
Most important to our "bottom line," the sales team under V.P. Bill Binan has bulked up in the past month. We have added a fifth full time staffer in New York, as well as a new representative in Atlanta to add to our team of reps around the country. That department and our development team will continue to grow in the year to come.
As we head into 2013, I am excited, eager, proud and yes, of course, always anxious. Across the board, the teams we have in place today are as strong as any we have ever had and that provides me with confidence that this year will be even bigger and better than the last. A special thanks to all of the staff for the hard work, perseverance and smarts that has allowed us to reach this point!
Have a tip we should know? tips@mediaite.com