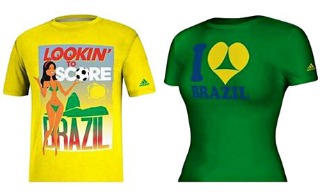 Quick, think about Brazil. What are the first two things that come to mind? Soccer, probably, if we're giving you the benefit of the doubt. Then sexy sex babes doing sex things on the beach, right? Maybe the sexy sex babes are dancing to bossa nova under the Christ the Redeemer monument depending on what you're into. Sexy.
That second association is one that Brazil would like to discourage ahead of this year's World Cup, and it's at the heart of a controversy over two t-shirts produced by German soccer gear giant Adidas that the brand agreed to discontinue this week. Hey, it could be worse, your national stereotypes could be, say, German.
The two shirts, one of which featured a curvaceous woman in a bikini under the text "Looking To Score", and the other which used a thong-clad disembodied booty as the heart in an "I ♥ Brazil" logo, were deemed to be in appropriate representation of their country by Brazil's tourism board Embratur.
"Embratur strongly repudiates the sale of products that link Brazil's image to sexual appeal," they said in a statement.
It's not often that you hear anyone complaining that the world thinks they're too sexy, but it's actually for a good reason in this instance.
"Sexual exploitation is an unacceptable crime and should not be mistaken for a type of tourism," Embratur president Flavio Dino said in a statement. "We want to make it clear to our main partners in the tourism sector that Brazil does not tolerate this kind of crime in its territory."
Brazil's president Dilma Rousseff has expressed her intentions to "combat" Brazil's representation as a destination for sex tourism as well in a series of tweets:
O Brasil está feliz em receber turistas q chegarão p/ Copa, mas também está pronto p/ combater o turismo sexual #CopaDasCopas

— Dilma Rousseff (@dilmabr) February 25, 2014
Prostitution is legal in Brazil over the age of consent, which is 14. UNICEF estimates there are as many as 250,000 child prostitutes in the country, a number that figures to rise in preparation for the arrival of some 600,000 soccer fans from around the world.
[via The Guardian]
— —
Luke O'Neil is a self-loathing journalist and blogger in Boston whose work has appeared in Esquire, Slate, The New Republic and many others. Follow him on Twitter (@lukeoneil47).
Have a tip we should know? tips@mediaite.com