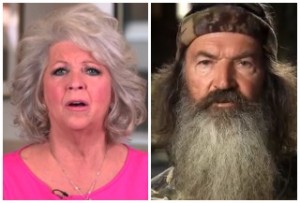 In the next leg of her comeback tour, Paula Deen did a candid interview with People magazine, and excerpts of the interview published by E! Online, Deen continues to apologize and says that she can empathize with what Phil Robertson went through.
She continues to insist she "would never ever hurt anyone intentionally," and admitted that she was so fixated on what people said online about her that she "could not get off the computer except to go to the bathroom and eat."
Deen's public profile tanked last year after the controversy over her past use of the n-word went public, but others who went through similar scandals, like the Duck Dynasty star, didn't suffer as she did, and Deen says because of what she went through, she can empathize with others that go through the same thing:
"It's amazing that some people are given passes and some people are crucified," Deen says. "I have new empathy for these situations, though. My dad always told me, 'Believe half of what you see and none of what you hear.'"
Deen also compared herself to openly gay NFL draft prospect Michael Sam, who wants to be viewed as a football player who happens to be gay instead of branded as the gay football player, and Deen said she can understand why because she doesn't want to live the rest of her life with words like "embattled" or "disgraced" defining her.
[photo via screengrab]
— —
Follow Josh Feldman on Twitter: @feldmaniac
Have a tip we should know? tips@mediaite.com
Josh Feldman - Senior Editor