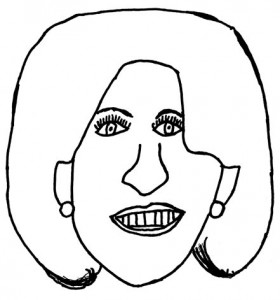 Kids really do say the darndest things. 826 National, a nonprofit that runs writing programs for kids in eight cities nationwide, recently published an anthology of letters from children to Michelle Obama. (It's a follow-up to Thanks and Have Fun Running the Country, a similar collection of letters to Barack Obama.) On Saturday, the New York Times ran an op-ed that excerpts some of the book's most notable notes. One common thread? Kids asking Michelle to use her magical First Lady powers to give them stuff, everything from $200 to "a cute fish too, like the ones in Finding Nemo."
Here's a sampling of the requests letter-writers made to Michelle:
Can I borrow some money so we can move into an apartment and buy a new Mustang convertible? I don't mean to waste money. I will use some of the money to buy a drum set and have a cool pool. Can I have $10,000 to buy my passport to go to Las Vegas? Send me a picture of the White House and the statue of Abraham Lincoln.

— LUIS MOLINA, age 10, Los Angeles
Please bring me scary stories like the ones my second-grade teacher has. For example, a book full of scary stories that are very, very scary. Bring me a thing to put my books in because I have a lot of books and they are too heavy in my backpack. Please bring me a cute fish too, like the ones in "Finding Nemo."

— JUAN BENITEZ, age 7, San Francisco
Can you put my dad in a job? I'm eating healthy. I'm eating watermelon, melon, mango and persimmons. I just want to have $200.

— SANTOS LOPEZ, age 8, Los Angeles
Please put a statue of me in Echo Park. Thank you. J.K. No, really. I want a tuxedo on the statue.

— ANDRES ORTEGA, age 11, Los Angeles
Also my dad works for the city. Can you give him more money? His name is Manuel and he is in the airport. And how many rooms are there in the White House? I live in 4142. The manager does not let us have a dog and people that live there have a dog. Could you tell the manager we got to have our dog back? Thank you.

— OSCAR CASTRO, age 9, Los Angeles
Not everyone expects Michelle to send them goodies, though. The best letter of all may be this one from Aidan Sheill-Loomis and Nicholas Allan of Boston, who actually have some advice for the Commander-in-Chief's wife:
Hi, we are 10 and 9 years old. We live in Boston. We hope you send letters back to us.

I think that you should shut down cigarette and liquor companies and try to keep drugs off the streets. Robots may be able to help you.
Out of the mouths of babes, eh? The entire op-ed (and, likely, the entire collection) is worth a read. Check it out at NYTimes.com, or visit 826's website to get your own copy of the book.
Have a tip we should know? tips@mediaite.com