Akin Love Out Of Nothing At All: Rep. Todd Akin Still Leads Senate Race Despite 'Legitimate Rape' Comments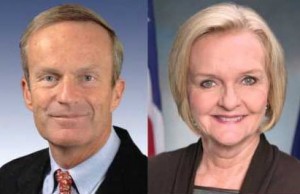 As the deadline for Rep. Todd Akin to drop out of the race for US Senate in Missouri draws near, a new survey from Public Policy Polling might give the man who made "legitimate rape" a household name something to think about. According to the poll, taken Monday night, Missouri voters overwhelmingly found Akin's comments about "legitimate rape" inappropriate, but despite the controversy, he still leads incumbent Sen. Claire McCaskill, albeit by a single point.
Even though every Republican heavyweight in the world is trying to shove Akin out of the race for US Senate, the Missouri congressman has vowed to stay in. He has until 5pm today to drop out, after which it will require a court order to replace his name on the ballot. As Rep. Akin weighs his decision, the new PPP poll might just bolster his resolve:
Missouri voters strongly disagree with the comments Todd Akin made about abortion over the weekend, but it hasn't moved the numbers a whole lot in the Senate race. Akin leads Claire McCaskill by a single point, 44-43. That's basically identical to our last poll of the contest in late May, which found Akin ahead by a 45-44 spread.

It's not that Missouri voters are ok with or supportive of Akin's comments. 75% of voters, including even 64% of Republicans, say they were inappropriate to only 9% who consider them to have been appropriate. 79% of voters say they disagree with what Akin said, including 65% who express 'strong' disagreement with him. 51% of GOP voters say they strongly disagree with him.
Democrats hope that Akin stays in, not just to give Sen. McCaskill a better chance to retain her seat, but because Akin will continue to serve as a reminder to independent voters, especially women, of the insane state of Republican policies and beliefs about reproductive freedom. As the Akin story plays out, more and more of the congressman's views are being exposed as mainstream among national Republican leaders, including Mitt Romney and Paul Ryan.
The good news for Sen. McCaskill is that 16% of those surveyed were not familiar with Akin's comments, a situation that she and the Democrats will surely remedy between now and Election Day. You can view the full results of the survey here.
Have a tip we should know? tips@mediaite.com