Al Qaeda Flag Flies over City Where Marines Fought Largest Battle of Iraq War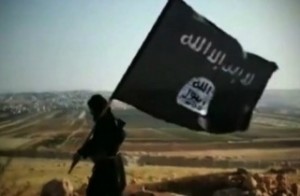 Just over two years since American troops entirely withdrew from Iraq, the black flag of Al Qaeda flies over the city of Fallujah's government buildings in Iraq's western Anbar Province. It was there that several American contractors were killed and strung up over a bridge in 2004 and American Marines fought the biggest battle of the Iraq War.
"The capture of Fallujah came amid an explosion of violence across the western desert province of Anbar in which local tribes, the Iraqi security forces and al-Qaeda militants have been fighting one another for days in a confusingly chaotic three-way war," reads a report in the Washington Post.
RELATED: Maddow to Iraq War Architects: 'Your Opinion is No Longer Required'
The report notes that American service personnel fought for years to assert control over the city at the heart of the Sunni Triangle over the course of the occupation of Iraq. The Post further observes that the explosion of violence in the province which borders Syria coincides with that state's escalating civil war.
"The upheaval also affirmed the soaring capabilities of the Islamic State of Iraq and Syria (ISIS), the rebranded version of the al-Qaeda in Iraq organization that formed a decade ago to confront U.S. troops and expanded into Syria last year while also escalating its activities in Iraq," the report reads.
"At the moment, there is no presence of the Iraqi state in Fallujah," a local journalist told Post reporter Liz Sly. In the province's capital of Ramadi, however, local tribesman who fought alongside U.S. troops have reportedly been successful at ousting Al Qaeda rebels from the city.
[Photo via The Daily Mail]
— —
> >Follow Noah Rothman (@NoahCRothman) on Twitter
Have a tip we should know? tips@mediaite.com