Al-Qaeda Splinter Group Offers 10 Camel Reward For 'Information Leading To Obama'
Al-Qaeda Splinter Group Offers 10 Camels For 'Information Leading To Obama'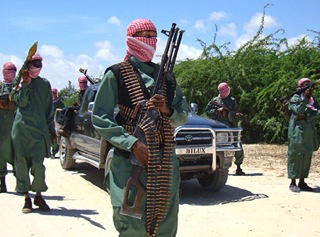 A militant extremist Islamist fundamentalist group in Somalia is offering bounties for people who can provide them information on the whereabouts of President Barack Obama and Secretary of State Hillary Clinton— ten camels for the first and, according to various reports, either two camels or ten chickens for Secretary Clinton.

RELATED: Rush Limbaugh: Obama 'Profiling Muslim Males'
According to Yahoo! News, the group Shabaab, which operates in Somalia, group "commander" Fuad Mohamed Khalaf has some rewards for Somalis who can tell him and his group where "infidel Obama and the lady of Bill Clinton, the woman named Hillary Clinton" have been hiding all this time:
"Anyone who helps the Mujahideen find the whereabouts of Obama and Hillary Clinton will be rewarded with 10 Camels to the information leading to Obama and 10 hens and 10 cocks for Hillary," said senior Shabaab commander Fuad Mohamed Khalaf in a statement reported on numerous websites. […]

"There is nothing new in the fact that infidels pay to have Muslim leaders killed," said Khalaf. "They already did that by offering camels for the head of Prophet Mohammed, and the dollar is the camel of today."

Khalaf was referencing a passage in the Koran in which 100 camels were offered for the Prophet Mohammed as he fled Mecca for Medina.

"I can assure you that these kind of things will never dissuade us from continuing the holy war against them," said Khalaf.
CNN notes, conversely, that the United States is offering $5 million for information on Khalaf and a number of other jihadists, but that the tape in which the bounty is offered has not been independently verified as the voice of Khalaf.
[Photo via BBC]
Have a tip we should know? tips@mediaite.com