Alaska Paper Warns McGinniss That Todd Palin Might Be Legally Allowed To Kill Him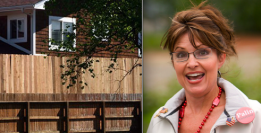 Suffice to say this is not the sort of thing you might expect to read in the op-ed pages of, say, the New York Times. Yesterday, the Mat-Su Valley Frontiersman, the local paper of Wasilla Alaska (and one-time employer of Sarah Palin), published an op-ed on (what else!) Sarah Palin's new neighbor Joe McGinniss and the new fence he had inspired.
Fences are built by people who want to keep their privacy or keep out the sight of their neighbors' unsightly yards.

So the call from "Today," quickly followed by a similar call from ABC news, seemed curious. The day before it was another national news outlet wanting to know if we had a photograph of the fence. There was an e-mail from Outside asking if the Palins were in compliance with city code. Another note suggested we assign someone to trace every move McGinnis makes while here and write a book about him to counter his about Palin.

Maybe we're out of step here, but the unanimous consensus of the newsroom is that we don't really care if the Palins want some privacy from what they worry might be prying eyes.
I can't decide whether their capitalization of 'Outside' is intended to be ironic. Regardless, one gets the sense a successful journalism career could be launched this summer by some intrepid up-and-coming Wasilla reporter. However it's this last bit that Joe McGinniss might want to pay particular attention to.
Finally, those who are fond of Joe McGinnis might remind him (if he doesn't already know) that Alaska has a law that allows the use of deadly force in protection of life and property.
This is true. The paper said they meant it in good humor. But I suspect Joe McGinniss may be looking over his shoulder a bit more frequently these days.
Have a tip we should know? tips@mediaite.com