All It Took Was A U.S. Congressman To Get A Six Year Old Girl Off The No-Fly List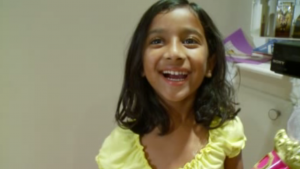 The Thomas family in Ohio had a tough time in the airport recently while trying to fly out of Cleveland. It turns out that their six-year-old daughter Alyssa had been flagged by the Department of Homeland Security. This was obviously a mistake and was soon rectified. We all can agree that, unfortunately, the No-Fly List is a necessary evil in the world we live in. We can also agree that, well, accidents will happen. It's just good to know that all you need to do to get those accidents rectified is to complain, call a local news affiliate, have them do a story on you, have that story cause a stir, hope that that stir makes its way to US congressman, and have him talk to the DHS. It's just that easy!
In a story reminiscent of a recent Modern Family storyline but featuring Rep. Dennis Kucinich instead of Sofia Vergara (total eye-candy downgrade!), it took all of these components to get little Alyssa Thompson off the list. Fox 8 News in Ohio (who also did the original story), has the report:
"Alyssa's parents were made aware during a recent trip from Cleveland Hopkins International Airport that she was flagged by the government. That meant possible delays or other problems, because she likely shares a name with someone on the Homeland Security terror watch list. The little girl was instead forced to file with the government to have her name cleared. In response, the DHS sent a two-page letter to Alyssa explaining why they couldn't make any changes or provide anymore information.

'This is not a plot against us versus them, or one governmental agency against someone else,' said Santhosh Thomas, Alyssa's dad. 'I just think it's a misfortunate thing that happened to a young girl.'

The Thomas family told their story to FOX 8 and we took the issue to Washington. They've just been made aware by Congressman Dennis Kucinich that Homeland Security made a mistake. 'I was given a number by a Homeland Security official for the Thomas family to call to make sure that this does not happen in the future,' said Cong. Kucinich. 'And needless to say we want to make sure that no six-year-old or the six-year-old's family will be subject to and kind of inconvenience in the future.'"
Well, we can all be glad that everything worked out and that the Thompson family seem so nonchalant about it. And, now that it's done, the DHS can stop hunting six-year-old girls and get back to tracking our nation's real enemies: six-year-old boys! Those kids are monsters!
(h/t Reddit)
Have a tip we should know? tips@mediaite.com