Al Gore Accuser Molly Hagerty Produces Stained Pants For National Enquirer Cover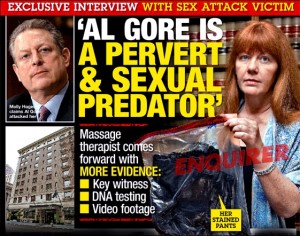 It looks like the National Enquirer may have moved one step closer to recapturing its John Edwards-era glory, as the masseuse who alleges that ex-VP Al Gore sexually assaulted her has brought considerably more to the table. In a teaser for their latest issue, the Enquirer identifies the alleged victim as Molly Hagerty, and says she's given them DNA evidence, a "bombshell witness," and "secret hotel video surveillance."
There's little chance that hotel surveillance footage will reveal anything, as Gore has reportedly admitted (through an unnamed source to Howard Kurtz) that he was at the hotel, and got a therapeutic (hanky-panky-free) massage, and the witness is likely the friend of Hagerty's to whom she spoke before and after the incident. While the possibly DNA-stained pants could prove significant, they won't be of much use unless they can be compared to a known sample of Gore's DNA.
Perhaps the most significant development, in the short term, is that Gore's accuser has publicly revealed her identity. While that alone proves nothing, it ups the ante considerably, exposing her to huge liability if her claims prove to be false.
Circumstantially, things don't look good for Al Gore here. The extremely detailed, too-weird-to-make-up allegations emerged scant weeks after the Gores announced a marital separation. The leak to Kurtz sounds a lot like a fall-back position, and the push-back from other quarters has been whisper-quiet.
Unfortunately for Hagerty, the stream of evidence here all flows from her alone. She initially declined to cooperate with police in 2006, then, two years later, gave a detailed account to detectives. She plausibly explained her reticence, but it's unclear why she didn't provide them with the stained pants at that time. Unless or until there is some kind of reliable DNA comparison, Al Gore will retain a measure of deniability.
This story, though, highlights a particular weakness of the modern mainstream media. Given this trail of bread crumbs, a well-resourced corps of investigative journalists would have likely turned up other incidents to support or discredit these allegations. The realities of a profit-driven Fourth Estate have drained such resources from mainstream media, leaving them in the hands of those who can afford boots on the ground, the Enquirers and TMZs of the world.
Have a tip we should know? tips@mediaite.com