Alleged Rape Victim Suspended from BYU for 'Honor Code' Violations: 'I Feel So Betrayed'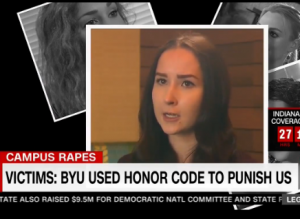 There are a lot of aspects of Mormonism that get blown out of proportion in retellings by those outside of the community. From the alleged existence of "magical" underwear to the supposed belief that each Mormon man receives his own planet in the afterlife, there are plenty of hyped-up rumors surrounding the religion. It might be easy to belief that the super-strict honor code at Brigham Young University is another one of those inflated stories and that the Mormon-owned university isn't as harsh as the whispers would lead outsiders to believe.
Yes, star player Brandon Davies was kicked off of BYU's basketball team when it came out that he had engaged in premarital sex with his girlfriend and thus, violated the honor code that all incoming freshmen sign, but BYU isn't the only school out there with one of these codes. Private universities are entitled to their codes and they are entitled to discipline students who break their codes.
The question of what constitutes "breaking" those codes, though, is what qualifies BYU's code as "too harsh" to some. Recently, a number of young women have been suspended after filing police reports alleging that they've been raped. BYU was made aware of the police reports and determined that, by being involved in a sexual act, the women violated the code.
Some of them spoke to CNN's Ana Cabrera.
In some cases, as a statement from the university pointed out, the women were supposedly suspended because the investigation into their rape claims revealed that they had broken other rules outlined in the code.
Some alleged victims, like Madi Barney, knew that BYU's prior handling of sexual assault claims involved suspension of the accusers. As a result, she did not go to the school with her claim. She only went to the police and even then, she waited four days after the incident, too afraid that her school would find out. They did and, until she agrees to answer their questions regarding her possible breaking of the code, she is unable to register for future classes. Her attorney has advised her not to answer their questions until the criminal rape trial is over.
"I felt so betrayed because they read every single thing that happened to me and they just kind of didn't care," said Barney, whose petition for BYU to "stop punishing victims of sexual assault" has reached over 100,000 signatures.
CNN featured a spokesperson from the school who insisted the honor code review process would never be pursued after a report of sexual assault. Only after determining that other actions that violated the code were taken would an investigation be opened.
Alleged victims like Madeline MacDonald disagree.
"You're not reporting someone else," she said. "You're reporting yourself when you go [to BYU with allegations]."
[image via screengrab]
For more from Lindsey, go to Twitter or Facebook.
Have a tip we should know? tips@mediaite.com