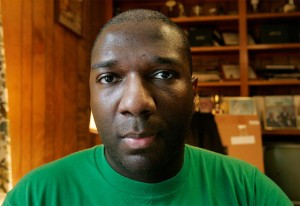 Did the Richland County grand jury completely miss Alvin Greene's campaign rap? They must have because, if they'd seen it, they'd know that "Greene's a new face in politics, And he don't show porno to college chicks." Instead of luxuriating in those wonderful, persuasive lyrics, the grand jury has indicted Greene on felony charges for allegedly showing a college student pornography. Looks like the senatorial candidate will need a new video claiming he "shouldn't get any punishment, 'cause he don't go communicating obscene materials to a person without consent." Catchy.
From the Associated Press:
"A Richland County grand jury indicted Green for disseminating, procuring or promoting obscenity — a felony — as well as a misdemeanor charge of communicating obscene materials to a person without consent.
Greene, who surprised the Democratic party establishment with his primary victory, was arrested in November after authorities said he approached a student in a University of South Carolina computer lab, showed her obscene photos online, then talked about going to her dorm room.
Greene declined comment at his home. He has also refused to talk about the charge in interviews."
Greene's opponent Jim DeMint should certainly be happy with this news. Not only will he enjoy the grand jury's indictment, but also the Associated Press' indictment of Greene as a "longshot candidate." In fact, the whole article seems a little anti-Greene biased. They call Greene's televised interviews "awkward." Come on, he's a candidate for the Senate. The polite term is "endearingly quirky." And, furthermore, this whole indictment seems biased. Since when is it against the law to be bad at propositioning coeds? If that's the case, then didn't most of us break that law for four straight years?
Have a tip we should know? tips@mediaite.com