Amanda Bynes Blames 'Microchip in My Brain' for Tweets Claiming Her Father Abused Her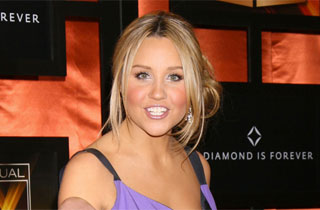 Today, former child star Amanda Bynes went on a shocking Twitter spree, alleging, in more than a dozen tweets, that her father had sexually abused her during her childhood. And then she took it back, claiming that he told her to say so with a microchip he'd installed in her brain.
In a series of now-deleted tweets, Bynes, whose mental health has been in constant question in the past year, accused her father of verbally and physically abusing her as a child. "He called me ugly as a child and then asked me if I wanted to have sex with him and i did not know how to respond and I said no," she wrote, according to screengrabs saved by Gawker. "My dad fondled himself in front of me so many times that i started recording him on my phone in hopes of catching him saying or doing something inappropriate around me so I could get him arrested & put in jail for the rest of his perverted life."
Her mother via a lawyer denied the allegations. "Rick has been the best father and husband a family can ask for," she told HollyScoop. "He has never abused Amanda or our other children physically or sexually."
Amanda then quickly deleted the tweets, but posted this one to explain her tweets:
My dad never did any of those things The microchip in my brain made me say those things but he's the one that ordered them to microchip me

— amanda bynes (@amandabynes) October 10, 2014
Earlier last year, Bynes was committed to a psychiatric ward after a series of bizarre incidents, though she and her mother insisted later that she was not mentally ill and told press that she was not on medication.
UPDATE (8:38 PM EST): PEOPLE Magazine reports that Bynes has checked into a rehab facility in California and is on a 5150 psychiatric hold for the next 72 hours.
[h/t Gawker]
[Image via carrie-nelson / Shutterstock.com]
—
>> Follow Tina Nguyen (@Tina_Nguyen) on Twitter
Have a tip we should know? tips@mediaite.com