American Defense, Intel Officials Share Their Edward Snowden Murder Fantasies with BuzzFeed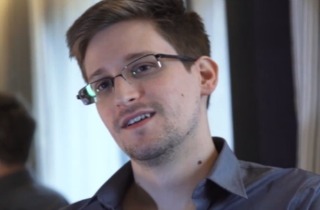 It's no secret that Americans defense and intelligence professionals are no fans of serial intelligence leaker and defector Edward Snowden. His string of revelations to foreign press outlets and governments have forced the National Security Agency and other institutions to change their methods and tactics and have even compelled President Barack Obama to announce reforms to the NSA's domestic intelligence gathering practices.

Underscoring how deeply some defense officials hate Snowden, some recently spoke to BuzzFeed under the condition of anonymity where they revealed their desire to see the NSA leaker dead.
"In a world where I would not be restricted from killing an American, I personally would go and kill him myself," one anonymous NSA official told BuzzFeed's Benny Johnson.
"I would love to put a bullet in his head," said a Pentagon official and former special forces officer after noting that he takes no pleasure in such an act, but it is the appropriate punishment for Snowden's crimes.
RELATED: Gig's Up: Iranian News Agency Says Snowden Docs Reveal Obama-Alien-Hitler Plot
"Most everyone I talk to says he needs to be tried and hung, forget the trial and just hang him," a defense contractor told Johnson from his base overseas.
"I think if we had the chance, we would end it very quickly," an arm intelligence officer began. He shared what the BuzzFeed reporter described as a chilling murder fantasy:
"Just casually walking on the streets of Moscow, coming back from buying his groceries. Going back to his flat and he is casually poked by a passerby. He thinks nothing of it at the time starts to feel a little woozy and thinks it's a parasite from the local water. He goes home very innocently and next thing you know he dies in the shower."
Some of Johnson's sources claim Snowden's leaks have been anything but harmless. His revelations about America's operational intelligence gathering practices have allegedly increased their "blindness" and have made their jobs harder and more dangerous.
Read the full article via Buzzfeed
[Photo via screen grab ]
— —
> >Follow Noah Rothman (@NoahCRothman) on Twitter
Have a tip we should know? tips@mediaite.com