'Americans Should Be Skeptical': Deputy AG Rosenstein Releases Statement on 'Anonymous Allegations'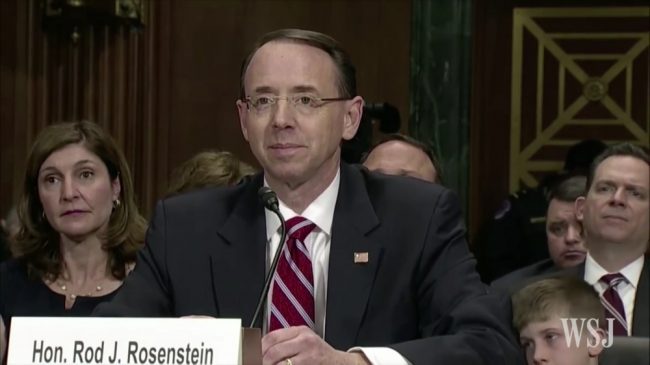 Deputy Attorney General Rod Rosenstein issued a late-evening statement on Thursday calling on skepticism in the face of anonymous sources making allegations. The statement would best be described as unusual: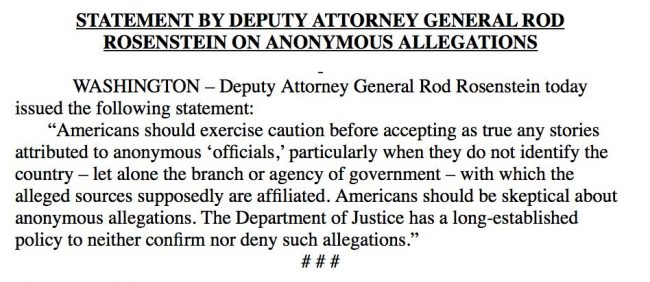 Beyond telling Americans to be skeptical of any "anonymous allegations," it seems that Rosenstein is insinuating that government officials cited in many news stories may not be American. He ends the short statement by pointing out that the Department of Justice has a policy of neither confirming or denying "any such allegations."
Rosenstein's comments come on the heels of reports that special counsel Robert Mueller is now investigating President Donald Trump for obstruction of justice and looking into White House senior advisor — and Trump son-in-law — Jared Kushner's business dealings.
Following the release of the statement, a number of journalists and reporters noted how peculiar it was:
I think the Rosenstein statement is in relation to a story we haven't seen yet in an effort to quash it. So who knows what it's about.

— John Podhoretz (@jpodhoretz) June 16, 2017
Strange new statement from Deputy AG Rosenstein on 'anonymous allegations', says "Americans should be skeptical". pic.twitter.com/BxRCCvRWXg

— Kyle Griffin (@kylegriffin1) June 16, 2017
If Rosenstein wanted to prompt questions about undue pressure without saying it outright, he chose an excellent way to do so.

— Matt Ford (@fordm) June 16, 2017
Deputy AG Rod Rosenstein just issued an unusual statement basically telling people not to believe leaks. pic.twitter.com/VqfDIm1cqY

— Eric Geller (@ericgeller) June 16, 2017
[image via screengrab]
—
Follow Justin Baragona on Twitter: @justinbaragona
Have a tip we should know? tips@mediaite.com