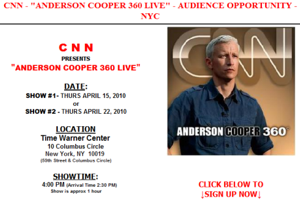 The experimentation over at CNN to find a hit show continues, with the network now trying to save its brightest star, Anderson Cooper, from the first quarter crash that saw his 10 PM program lose more than 40% of his viewers. For a change of pace, Anderson Cooper 360º is now set to film two talk-show style live audience specials later this month.
From the Hollywood Reporter report:
The network is recruiting a crowd for two shows that will serve as a testing ground for a potential new primetime talk format.

CNN is calling the trial episodes "specials" to keep expectations low in case the project doesn't make it to the series stage. But, really, expectations couldn't be much lower for Anderson — his show has recently been beaten by repeats of programs on MSNBC and HLN.

A studio audience for a serious news program is a bit like adding a laugh track to a eulogy, so it's unclear how this is going to work with Anderson, who's an agreeable enough newsreader and interviewer but not exactly the sort of chap you can picture wooing a live audience. The network would only confirm the format will be "conversational."
TV Newser has published the official listing for the events, pictured above, from publicity company Stargazer Entertainment, which specializes in live audience events. The ad doesn't give away much of anything on how the format would work, especially since Cooper is first and foremost a hard news reporter, so a shift to an Oprah Winfrey-like setting seems out of character. That said, Cooper has done quite well moderating presidential debates with live audiences before, so the key to putting together a couple of successful audience specials might hinge upon Cooper moderating an interaction between the audience and a few key partisan guests.
It is as of yet unclear whether the specials will air at all or whether they are trials, though chances are that decision will be made after producers view the final product. For now, the audience shows are scheduled to be taped on April 15th and 22nd.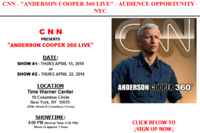 Have a tip we should know? tips@mediaite.com