Andrew Breitbart Did Not Run 'Weinergate' Evidence Which Turned Out To Be Fake (Update)
The Under-Aged Participants That Add Clarity And Exoneration

It was Betty who pointed out the activities of Dan Wolfe (@patriotusa76) and his clique, including a man named Mike Stack (@goatsred). She had a lot of information that I could not verify, but those facts that were independently verifiable formed the basis of our reporting on Wolfe Sunday afternoon. Wolfe and Stack, along with several others, had engaged in a campaign of harassing young, mostly-underage girls who were being followed by Rep. Weiner, as well as a constant stream of vitriol, homophobic innuendo, and rumormongering against Rep. Weiner. Betty was one of those young girls, and their unwanted attention, she says, caused her to shut down her Twitter feed.
Betty's mother (we'll call her Mrs. Betty) says that she and her husband monitor all of Betty's internet usage, and were incensed by this group's behavior. Rep. Weiner, she confirms, never contacted Betty privately, with the exception of a Direct Message welcoming her to his Twitter stream, a message Mrs. Betty assumed was automatically generated.
A high school friend of Betty's, whom I will call Veronica (she's a minor), was also contacted, via Twitter, by a member of the group, Mike Stack (@goatsred). For personal reasons I won't go into, Veronica saw a means of getting attention, and agreed to follow @Goatsred so that they could speak privately. She told him that she and Betty had incriminating Direct Messages from Rep. Weiner, a claim she now admits was false, and which she made without Betty's knowledge.
In fact, she was simultaneously telling Betty that @Goatsred had tried to induce her to lie about Rep. Wiener, and to enlist Betty in the plot. Veronica now admits this was also false. Yes, @goatsred did contact her, and she did feed him false information about Rep. Weiner, but this was not at his urging.
When a tipster, Adam Shriver, sent me a screenshot of this Direct Message from Veronica, from @goatsred's public YFrog account, I confronted Betty about it, and Mrs. Betty called Veronica's mother. That's when Veronica admitted she had been lying.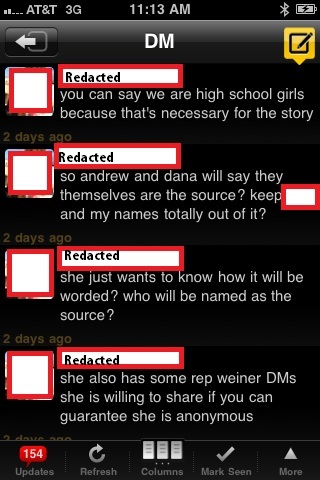 According to Veronica, she never even followed Rep. Weiner, nor did he ever follow her. "I saw many other girls in the news and I wanted to be famous," she says. "Nothing I told goatsred was true. I'm sorry to everyone for lying and for embarrassing my mom."
Both girls' parents are livid that these grown men contacted their daughters in this way, knowing they were underage, and according to the girls and their parents, neither ever had any contact with Rep. Weiner, beyond that welcome DM.
We now know that when Dan Wolfe emailed Breitbart the Weinergate screenshots on Saturday (The Smoking Gun has the email), he told Breitbart "We have more!"
Among other things, Veronica's false allegations were part of the "more."
Since I have only now been able to verify this story (and the identities of the two girls), I was unable to divulge any of this until now. Since I became involved in this story, Andrew Breitbart and I have been in frequent contact (within the bounds of accepted journalistic practices). Initially, Andrew called me to discuss the criticisms I had made on Twitter, but in the course of our conversation, he talked about information that he had decided not to use because he was still trying to verify it.
>>>>Next page: The Relationship Between Breitbart And Dan Wolfe (@PatriotUSA76) And Mike Stack (@Goatsred)<<<<
Page 1: Unfair Accusations Against Andrew Breitbart Over Weinergate Scandal
Page 2: The Under-Aged Participants That Add Clarity And Exoneration
Page 3: Breitbart And Dan Wolfe (@PatriotUSA76) And Mike Stack (@Goatsred)
Page 4: Exclusive Emails: Markos Moulitsas Refuses To Protect Girls' Identities
Page 5: Exclusive: Statements From The Underage Participants And Their Parents
Have a tip we should know? tips@mediaite.com