Andrew Breitbart Did Not Run 'Weinergate' Evidence Which Turned Out To Be Fake (Update)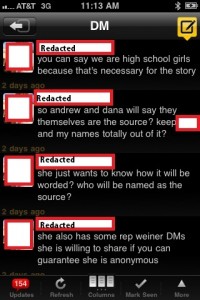 The "Weinergate" story has been a veritable clinic in the pitfalls of new media-influenced journalism, and one such pitfall has come to a head. Andrew Breitbart has been repeatedly accused of engineering a hoax against Rep. Anthony Weiner, and while journalistic ethics prevented me from explaining further, I tried to defend him. As rampant, baseless speculation ruled the week, I have been developing the story the old-fashioned way, by properly verifying facts before I release them.
Unfair Accusations Against Andrew Breitbart Over Weinergate Scandal
There are reasonable criticisms to be made of Andrew Breitbart regarding the Weinergate story (I have made many), and I haven't seen every statement he's made on Twitter or TV, so I cannot vouch for their fairness, but when it comes to the publication of factual evidence, Breitbart has acted responsibly throughout.
In the instant-gratification landscape of the new media, so-called journalists bumble around posting information, with little regard for traditional journalistic processes, and the results have been disgraceful. One such result has been the unfair accusations against Andrew Breitbart, accusations which I am now able to refute. It has been exceedingly difficult to stand by silently while individuals on every side of the political spectrum have made a mockery of the truth, but the story is now ready to be told. Please excuse the long narrative, but it is all important to understand what really happened here.
Shortly after the Weinergate story first broke, one of several red flags I noticed, and shared with Breitbart, was the fact that there was only one unique retweet of the picture. My back-and-forth on Twitter caught the attention of a young girl who had information about the story, and she contacted me. Since she is a minor, and at her parents' request, I will identify her pseudonymously as Betty.
Update: Since this post was published, several new elements to this story have come to light, particularly with regard to the identities of the pseudonymous underaged girls in the story. Please see this update for more.
Page 1: Unfair Accusations Against Andrew Breitbart Over Weinergate Scandal
Page 2: The Under-Aged Participants That Add Clarity And Exoneration
Page 3: Breitbart And Dan Wolfe (@PatriotUSA76) And Mike Stack (@Goatsred)
Page 4: Exclusive Emails: Markos Moulitsas Refuses To Protect Girls' Identities
Page 5: Exclusive: Statements From The Underage Participants And Their Parents
Have a tip we should know? tips@mediaite.com