Well here is something that you don't see everyday.
Internet provocateur Andrew Breitbart has just published what can best be described as an iconic image of Rep. Anthony Weiner (D-NY). The image depicts a shirtless, hairless and notably toned individual that bears a striking resemblance to the individual that has been at the center of the Weinergate controversy for the past 10 days or so.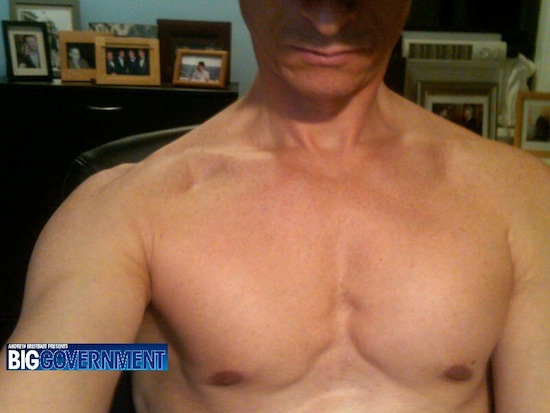 Breitbart writes in the accompanying post:
BigGovernment.com and BigJournalism.com have reported throughout the morning about the emergence of new details in the Weinergate saga, after a young woman came forward with new information that tends to undermine severely the theory that Rep. Anthony Weiner (D-NY) was the victim of a "prank" or a "hack."

The following photograph, reminiscent of that posted by former Rep. Chris Lee (R-NY) on Craigslist earlier this year, was allegedly sent to the young woman on Friday, May 20, 2011 via a Yahoo! email address that she claims was an alternate alias for Rep. Weiner:
But that's not all! It appears that a little online research and reporting have revealed to Big Government more images that are alleged to be some of Rep. Weiner's personal photographs. Breitbart explains:
A Google search for the email address Rep. Weiner allegedly used on that occasion yields an invisible Yahoo! profile with images that appear to be a repository for some of Rep. Weiner's personal photographs.

The profile automatically provides what appear to be the last three uploaded photographs in thumbnail form. Below is a screen grab taken yesterday from that page: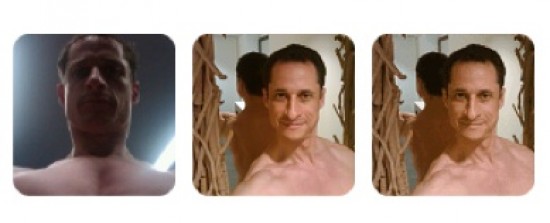 Breitbart has alleged that these images undermine the notion that Weiner was hacked or a victim of a prank last Friday when a image of what appears to be an excited member of congress in his underwear emerged from his Twitter account. It is still not clear that these images reveal anything substantial about that particular incident, nor do they necessarily implicate Weiner in anything worse than poor judgment in online behavior. The question that remains to be answered is how the recipient of these images feels about them, and if they were sent under something other than a broadly and mutually accepted understanding of their relationship.
What these images do reveal is that Weiner takes particularly good care of himself, appears to be an avid manscaper, and appears to be unafraid to share suggestive pictures of himself to individual (or individuals?) that he most likely has come to regret ever having trusted.
Read the entire post at Big Government to see a description of what other imagery was deemed "extremely graphic."
Have a tip we should know? tips@mediaite.com
Colby Hall - Founding Editor