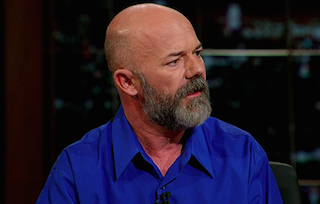 A little more than two years after he announced he would be striking out on his own with a subscription-based version of his popular blog The Daily Dish, Andrew Sullivan announced Wednesday that he will soon stop blogging indefinitely.
In a post simply titled "A Note to My Readers," Sullivan explained that there were two main factors that led to his decision to give up daily blogging for nearly 15 years straight. "That's long enough to do any single job," he wrote. "In some ways, it's as simple as that. There comes a time when you have to move on to new things, shake your world up, or recognize before you crash that burn-out does happen."
"The second is that I am saturated in digital life and I want to return to the actual world again," he continued. "I'm a human being before I am a writer; and a writer before I am a blogger, and although it's been a joy and a privilege to have helped pioneer a genuinely new form of writing, I yearn for other, older forms." He went on to say that he hopes to write longer essays and possibly a book in the future and also said he has been experiencing some health problems that are not HIV-related (Sullivan has been openly positive since the early 2000s).
After reminiscing about the various stories he has shared with readers over the years, Sullivan concluded with this message:
When I write again, it will be for you, I hope – just in a different form. I need to decompress and get healthy for a while; but I won't disappear as a writer.

But this much I know: nothing will ever be like this again, which is why it has been so precious; and why it will always be a part of me, wherever I go; and why it is so hard to finish this sentence and publish this post.
The tributes, along with the words of at least one detractor who see Sullivan's decision as proof that his digital subscription venture was ultimately a failure, have been pouring in on Twitter:
My friend Andrew Sullivan is giving up blogging: http://t.co/ZuINgAmHBo. I will miss the Dish.

— Dan Savage (@fakedansavage) January 28, 2015
. @sullydish is retiring from blogging. Wow. http://t.co/GwpiSbDzVR

— Chris Cillizza (@TheFix) January 28, 2015
Holy shit: @sullydish is quitting blogging. http://t.co/NVnQZsBvx9 I don't believe in anything anymore.

— daveweigel (@daveweigel) January 28, 2015
Bloggers note: @sullydish stopping in part bc health issues from "15 yrs of daily, hourly, always-on-deadline stress" http://t.co/rG4ANd82Rm

— James Poniewozik (@poniewozik) January 28, 2015
I likely would not be in my line of work without reading @sullydish blog as a teenager, sad to see it go

— Benjy Sarlin (@BenjySarlin) January 28, 2015
Blogs really are dead. @sullydish quits blogging. http://t.co/FX884w2OxT

— Byron Tau (@ByronTau) January 28, 2015
Andrew Sullivan, a blogging pioneer, decides to stop blogging for personal and health reasons. A big loss http://t.co/ILcv3L0ERK

— HowardKurtz (@HowardKurtz) January 28, 2015
@sullydish wasn't only a blogging trailblazer, he created a new model by breaking away from big media for launch a reader-supported site

— HowardKurtz (@HowardKurtz) January 28, 2015
I'm really gonna miss reading @sullydish every day.

— Nate Silver (@NateSilver538) January 28, 2015
The short version of @sullydish 's tear-jerking farewell address to the nation: his digital venture's been a disaster.

— Piers Morgan (@piersmorgan) January 28, 2015
Read the full post at dish.andrewsullivan.com.
[Photo via screengrab]
— —
>> Follow Matt Wilstein (@TheMattWilstein) on Twitter
Have a tip we should know? tips@mediaite.com