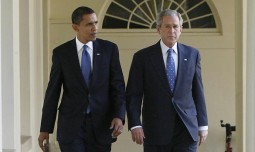 Time's Mark Halperin has finally raised his head from the extended Game Change tour to weigh in on the current state of President Obama. In a four point summary published Sunday, Halperin lists four ways in which Obama is repeating the mistakes of George W. Bush (someone, according to the NYT, people are beginning to miss). Says Halperin:
But Obama's stumbles atop the high wire of running the federal government have created perhaps the greatest danger to his presidency, and they are oddly reminiscent of the misguided practices that tripped up his predecessor.
And then he lists his four reasons including the fact Obama has no chief economic spokesperson, and his failure to integrate policy, politics and communication. Well Andrew Sullivan is having none of it. And I mean NONE.
No one does it better than Mark Halperin. Every single thing he cites in his latest brain-dead critique is, I believe, tangibly false, and the moronic attempt to grab some pageviews by a counter-intuitive and utterly dumb analogy – Obama is like Bush, guys! Aren't I clever? – is Beltway hackery at its worst…Halperinism really is part of what's deeply wrong about Washington. Obama really is the only thing that's still right.
No need to guess how Andrew really feels on this one! Also, there is an argument to be made that much of the political blogosphere (i.e. much of Politico) is merely Halperin's The Note writ large. In the larger sense, however, it does sort of beg the question whether this president, who is barely over a year into office, will survive the media's desperate drive for pageviews.
Have a tip we should know? tips@mediaite.com