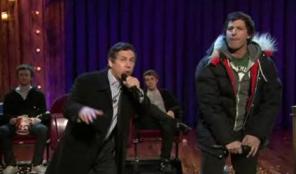 Back in 2005, the first viral video hit that put Saturday Night Live's Digital Shorts on the map was "Lazy Sunday," which touted the virtues of the Chronic(…les of Narnia).
With former SNL cast member Chris Parnell a guest on Late Night with Jimmy Fallon, the taped short was performed live for the first time last night.
Parnell talked about the instant attention that came from the short, which brought about a big New York Times story at the end of '05:
Since it was originally broadcast on NBC, "Lazy Sunday" has been downloaded more than 1.2 million times from the video-sharing Web site YouTube.com; it has cracked the upper echelons of the video charts at NBC.com and the iTunes Music Store; and it has even inspired a line of T-shirts, available at Teetastic.com.
Since then, NBC has removed it and other digital shorts from YouTube, but it still is in the Top 5 digital shorts of all time on Hulu. But "Lazy Sunday" opened the door to what the Digital Shorts would become – a major factor in SNL becoming the culturally relevant show it remains today.
Parnell was joined last night on Late Nightby Andy Samberg (who was in his first season when "Lazy Sunday" hit), and the result was yet another viral video hit for NBC. It's why Fallon and the new Late Night continue to be the model for the future of late night TV (see also California Dreams reunion last week).
Check out why Mr. Pibb + Red Vines = Crazy Delicious:


—–
» Follow Steve Krakauer on Twitter
Have a tip we should know? tips@mediaite.com