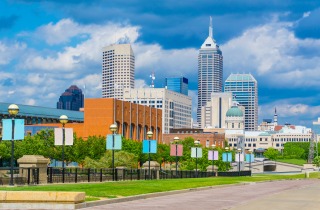 Popular customer review website Angie's List says its planned expansion project in Indianapolis, Indiana is coming to an abrupt standstill after the state's governor signed into law a religious freedom act that some say opens the door to government-sanctioned discrimination against LGBT individuals.
Gov. Mike Pence (R), a potential 2016 presidential contender, signed the Religious Freedom Restoration Act last week, which was passed overwhelmingly by the state's Republican-controlled legislature. According to Pence and Republican supporters, the law is meant to protect the state's business owners from being forced to act against their religious beliefs in any way.
Angie's List CEO Bill Oesterle, though, doesn't see it that way, saying in a statement to Reuters that the company is "hugely disappointed" in the bill. Oesterle told theIndianapolis Star that the law is a "national embarrassment" for Indiana.
As a result, he said, Angie's List is putting on hold its "Ford Building Project" until the company can further evaluate how it will affect its employees. The plan, according to Oesterle, was set to take hold in just days, and had the goal of expanding the company's Indianapolis headquarters to include the conversion of a century-old Ford assembly plant into offices, Reuters reported.
Angie's List isn't the only group pushing back against Indiana's new law. The NCAA expressed concern over the law, given that the Final Four of the men's basketball tournament takes place in Indianapolis next week. While the NCAA has not explicitly said it will move the location of the games, Charles Barkley called on the organization to move the Final Four out of the state.
Celebrities have also been vocal about their opposition. Miley Cyrus called Pence an "asshole," while former Secretary of State (and likely presidential candidate herself) Hillary Clinton, Apple CEO Tim Cook, actor Ashton Kutcher, and the mayor of San Francisco also chimed in.
The state of Arkansas overwhelmingly passed a similar proposal on Friday, which Gov. Asa Hutchinson (R) has said he will sign into law.
[Image via Shutterstock]
— —
>>Follow Andrew Desiderio (@forza_desiderio) on Twitter
Have a tip we should know? tips@mediaite.com