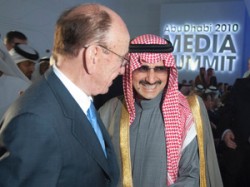 Perhaps taking a page from Jon Stewart's relentless criticism of Fox News' coverage of the proposed Lower Manhattan mosque NPR's David Folkenflik is further investigating the money connection between Fox News and Park 51's Imam Rauf: Saudi Prince Al-Waleed bin Talal.
Regulars watchers of Stewart will likely already know this (regular watchers of Fox, not so much) but Saudi Prince Al-Waleed bin Talal, the man who once offered Mayor Rudy Giuliani $10 million, is both the second-largest holder of voting stock in News Corp. and a person who has "given generously to initiatives pursued by the imam, Feisal Abdul Rauf." Perhaps equally as interesting considering the tone of the coverage is the fact Rupert Murdoch is a great admirer of the Prince.
In a 2005 documentary about the prince, Murdoch called Waleed "very shrewd, very analytical, yet at the same time prepared to gamble — and to go against sort of the prevailing thoughts about markets."

Murdoch added, "He's very original in his thinking."

The prince had long been Murdoch's business partner in News Corp. — but that year he arranged a share swap in which he obtained more than 30 million voting shares.
As for how the Prince feels about Fox coverage, Al-Jazeera anchor Riz Khan tells Folkenflik he's pragmatic saying: "Look, I'm not there to direct the news policy, I'm there to invest in News Corp. — and hopefully they've got some sense to do news properly."
Not that you will hear about any of this on Fox: "That exchange involving Fox's Senor was the only one this reporter could find on Fox News that made direct reference to the prince. But Senor did not name Waleed — nor was the prince mentioned in any of the speculation about the financing for that proposed Islamic center in Lower Manhattan."
Have a tip we should know? tips@mediaite.com