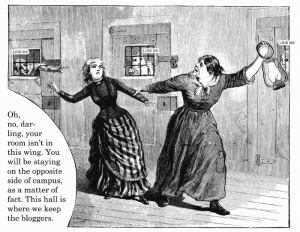 Here's an interesting bit of news from TechCrunch – an Aol blog that, to its credit, has no qualms about calling out its Aol Huffington Post Media Group bosses, or, for that matter, scooping them.
You likely already know that Aol recently laid off hundreds of its employees, leaving several of its blogs without any staff whatsoever. Then, yesterday, it was revealed that Aol was shutting down 30 of its blogs, with some being absorbed into HuffPost blogs and others existing as subheadings within the Huffington Post.
Now, TechCrunch has revealed what is to become of the freelancers who worked at those 30 blogs. An anonymous freelancer who happened to be on a conference call with the Huffington Post's editor for business and technology news, Peter Goodman, told TechCrunch (Double agent!) that Aol / HuffPost wants freelancers with professional journalism backgrounds to come on board as staffers. According to TechCrunch, the company does not view the ability to blog – not even about adorable kitten antics – as synonymous with journalism. Who'da thunk?
Here's the money quote, from Goodman:
We can't replace professional journalism with an adhoc blogging arrangement… we don't want to confuse professional journalists with bloggers.
That's an interesting position to take given the Huffington Post's reliance on contributions from non-journalists like Sean Penn and Alec Baldwin. Then again: These bloggers (Apologies, Alec. We say it with some modicum of love.) aren't on Aol / HuffPost's payroll as staffers. And, despite the growing hubbub around the fact that the Huffington Post does not pay contributors to what it refers to as its "group blog," it does have a roster of paid staffers – a roster that, by the way, continues to grow as the company hires people with extensive reporting backgrounds.
Aol / HuffPost is, in fact, adamant about bulking up its reporting staff and creating a large newsroom:
AOL also wants to staff up its main offices in New York, LA and Dulles, and create large newsrooms of these professional journalists. If you don't want to move to these locales, AOL is bullish on these freelancers joining hyperlocal news platform Patch. The HuffPost business desk will move into the AOL 770 Broadway offices on Monday, and staffers have already been notified that they should be packing up their belongings for the move to the new office. Goodman says AOL HuffPost wants to create a large newsroom where all staffers are sitting in one area.
TechCrunch notes that, while this may sound great in theory, the reality is that several freelancers who have applied for jobs within this expanding newsroom have yet to hear a response.
In any case: We're all for it. With big names like Michael Calderone joining its ranks, Aol / HuffPost seems to have the luxury of being able to select the pick of the litter from the online reporting community (and, yes, those are different from bloggers, although it stands to reason that a person can be both a blogger and a journalist), and has the resources in place to create great content. Whether readers are going to flock to that content, of course, remains to be seen.
h/t TechCrunch
Image via CrunchGear
Have a tip we should know? tips@mediaite.com