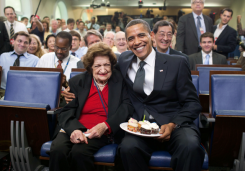 The White House Correspondents Association has reportedly reached a decision on who gets Helen Thomas's much-coveted briefing room seat. From Mike Allen:
Congrats to White House Correspondents' Board on its hard work: AP moves to Helen's center seat, Fox to AP's front-row seat, NPR to 2nd row.
It's an interesting shuffle and no doubt some speculation will go into why Fox, who pushed hard for Thomas's seat, was not in the end totally successful. That said, they have been moved up to the front row (a scenario Tommy Christopher predicted back in June). Says the Upshot's Michael Calderone: "The idea of moving the AP — which normally gets the first question at presidential press conferences — was under discussion in recent years, long before Thomas retired."
Bloomberg, who also pushed hard to be considered, remains in the second row, and NPR, who made a late move for the spot, has been bumped up from the third row to Fox New's current spot. Other shuffles via Calderone include:
The Financial Times will now get a regular seat, while U.S News & World Report—a news organization that has been scaled back in recent years—lost its seat. The foreign press pool also now gets a permanent seat.

Also, Politico and American Urban Radio Networks moved up to the third row. The Washing Times, which has cut back significantly in the past year, moves from the third to fourth row.
Update: Fox is apparently pleased with the decision. From Bill Sammon, Vice President of News and Washington Managing Editor, FOX News: "We are pleased with the decision of the White House Correspondents' Association and look forward to working with our colleagues in the front row and the rest of the James S. Brady briefing room."‬‪
Update again: Major Garrett twitters: Those of us who will sit in the front owe a debt to Jim Angle, Carl Cameron, Bret Baier and network that supported them.
Have a tip we should know? tips@mediaite.com