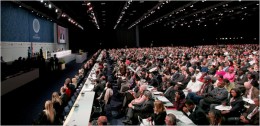 Forget the health care bill, the Salahis, and maybe even Afghanistan. In all likelihood this week and next are going to be dominated by coverage of the Copenhagen summit and debate over Climategate. The term has been popping up with greater frequency ever since a computer system at a well known and respected climate change research center in Britain was hacked and the leaked documents revealed that some environmental scientists believed so strongly that Global Warming is man-made that they may have conspired to keep conflicting results from being published. Or not, depending who you ask.
What is not up for debate is the fact the whole debacle is threatening to derail the global climate summit that begins today in Copenhagen, and which President Obama will attend next week. The timing of the hacking and the revelations coming just weeks before the summit could not have been more spectacular or damaging. So who was responsible? One high ranking official is pointing a finger at the Russians.
Jean-Pascal van Ypersele, a vice-chairman of the Intergovernmental Panel on Climate Change (IPCC), said that the theft from the University of East Anglia's Climatic Research Unit (CRU) was not the work of amateur climate sceptics, but was a sophisticated and well-funded attempt to destroy public confidence in the science of man-made climate change. He said the fact that the e-mails were first uploaded to a sceptic website from a computer in Russia was an indication that the culprit was paid.

"It's very common for hackers in Russia to be paid for their services," he said. "If you look at that mass of e-mails a lot of work was done, not only to download the data, but it's a carefully made selection of e-mails and documents that's not random at all. This is 13 years of data and it's not a job of amateurs."
It is difficult to imagine that the timing of all this was merely coincidental. Or that all that sorting to produce the most damaging results could have been accomplished by some extra savvy kids with too much time on their hands (another theory is that it was an inside job). But the question remains, if there is any truth to this claim, who is holding the purse strings?
Meanwhile, this is not the first time Russian hackers have created global Internet disarray. This past August hackers based in Russia managed to bring down (to the utter panic of New York media types) Twitter, Facebook, and parts of Google in an attempt to silence a single pro-Georgian blogger.
Have a tip we should know? tips@mediaite.com