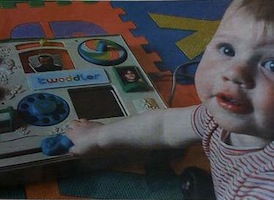 Twoddler is a buzzy, award-winning gadget that lets toddlers use Twitter while they're just playin' with toys and being toddlers. Sign of the apocalypse, or adorable? Or both?
Fears that Twoddler involves Twitter-obsessed parents shoving their not-yet-literate toddlers in front of computers and forcing them to cattily retweet celebrities are misguided. CNET News describes Twoddler as "a tricked-out Fisher Price Activity Center with pictures of family members and friends attached and an Arduino board inside."
Twoddler won first prize out of more than 40 submissions at this year's Innovative and Creative Applications competition.
Essentially, children play with different components of the toy and it automatically sends out Tweets based on their patterns of usage. It can even interact with their playmates' Twoddler toys, thanks to the mysteries of Social Networking! From the developers' site:
We are extending the system so it becomes easier to relate certain patterns of sensor readings with a set of strings. For example: when Yorin plays with mommy's picture for over 3 minutes, a twitter message will be posted saying "@mommy_yorin Yorin misses mommy and looks forward playing with her this evening", or when Yorin is hitting the doorbell button four times in a row, a twitter message will be posted saying "Yorin is showing off his music skills with a new tune". We hope to even support dynamic composition of new strings in the future.
So: even though "Twitter for toddlers" sounds like a cheap setup for a 'what's wrong with civilization' rant, we're going to have to go with "adorable" and "actually kind of useful" on this one. Setting aside the fact that Twoddler is platformed on popular straw man Twitter, it lets parents feel connected with their children even when they're at work or otherwise away (which is obviously no substitute for actually spending time together). Though hopefully the toddlers' accounts are protected and shared with parents and relatives only, or else that would be kind of creepy.
Twoddler is currently a prototype, so "Twoddle" probably doesn't have a shot at Word Of The Year until 2011, at earliest.
Here's a video of Twoddler in action:
Have a tip we should know? tips@mediaite.com